Daylight Saving Time can mean sleep interruption
When baby doesn't sleep, no one else does either.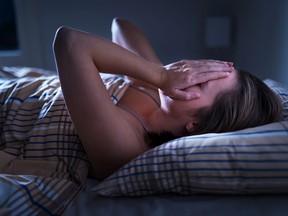 Photo by Stock art /Getty Images
Spring forward — we're going back on daylight time this weekend.
That often means sleep interruption, for adults and babies alike, and ironically, March is sleep awareness month.
Friday, March 18 is World Sleep Day.
The sleep experts at Nanit — a baby monitor (plus app) that lets you watch baby in her crib and also track health, wellness and development — know how stressful an infant's sleep habits can be.
When the baby doesn't sleep, no one else does.
Article content
Babies who fall asleep with a pacifier generally require more attention in the night than those who don't use a pacifier. And the sleep quality of parents has a significant statistical correlation with total sleep time of their infants.
Parents who reported very poor sleep quality had infants who slept on average 8.88 hours a night; the babies of parents who reported very good sleep quality slept an average of 10.37 hours a night.
Whether you have infants in the house or not, sleep deprivation is tough and it's dangerous to your health. Ongoing sleep issues are connected to physical and emotional health problems, among them memory and concentration issues, weight gain, high blood pressure and a weakened immune system.
Article content
Sleeping well isn't to be taken lightly.
Dr. Natalie Barnett, director of clinical research at Nanit, offered some tips for adjusting to the changes that come with the one-hour time shift.
For your baby, consider blackout curtains.
"Now that we're moving one hour ahead, it may still be bright outside when you put your little one to bed, and sunlight can affect your baby's ability to fall into a deep sleep," Barnett said.
You can also use a white noise machine.
Both adults and babies can benefit from changing their sleep schedule by 15-minute increments, Barnett said. Trying to recover the whole hour of sleep all at once is a bit more difficult.
For adults and older kids, Barnett advises cutting off screens at least an hour before bed.