Ex-Canadian ambassador who called Putin among 'finest' leaders quits Russian firm over invasion
'It is indeed fair to say that the invasion of Ukraine changed my views. Period,' Christopher Westdal told the Post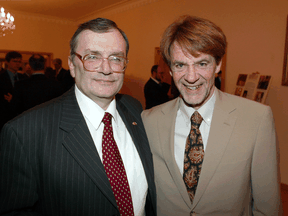 Former Canadian ambassador to Russia Christopher Westdal, right, with then-Russian ambassador to Canada Georgiy Mamedov, in February 2009. Photo by Pat McGrath/Postmedia/File
For years, Christopher Westdal has had a consistent message about Russia.
Vladimir Putin was one of the "finest leaders Russia's had in centuries" — not the devil he's made out to be in the West — his country doesn't want war, and neighbouring Ukraine is rife with corruption and nationalism, the former ambassador to Moscow said repeatedly.
Canada owes Moscow more respect and less antagonism, Westdal argued before parliamentary committees and in the media.
But the retired diplomat's long advocacy for engagement with the Kremlin has run its course.
Westdal quietly stepped down this week as board chair of a Russia-based mining company, a role that paid him $100,000 a year in cash and stock compensation, citing the war Putin launched against his neighbour a week ago.
Article content
"I was wrong. I am sorry. I apologize," Westdal said in a statement to the National Post. "Would that I'd seen the light and done it sooner."
"Russia's brutal invasion of Ukraine breaks my heart, the part of it I left in Kyiv when I finished my term as Ambassador there 24 years ago. I watch and read the news these days with dread … Though I fear for his and his people's fate, I have nothing but admiration for the leadership of President Zelensky and the courage of Ukrainians under ruthless attack."
Westdal's resignation after 15 years on Silver Bear's board is another example of the collateral damage the war is having on corporate ties between the West and Russia.
Article content
Oligarch Roman Abramovich announced Wednesday he was selling England's Chelsea football club, donating the proceeds to Ukrainian war victims, while oil-industry giants British Petroleum and Shell both said they were divesting multi-billion-dollar stakes in Russian projects or companies.
Sanctions that have cut off Russian banks and other parts of its economy from much of the outside world have likely added to moral pressures to abandon those links.
Silver Bear, which owns the Mangazeisky silver deposit in the country's far north but trades on the Toronto stock exchange, saw its share price tumble over the last several days. The company is analyzing the impact of sanctions but has "several alternatives to make hard currency payments when necessary," it said in a news release Monday.