Ex-Conservative organizer accused of ordering murder of Indian athlete over Kabaddi league dispute
According to startling police allegations, Snover Dhillon wanted to eliminate Sandeep Nangal Ambia because of competition for players between the Kabaddi leagues they ran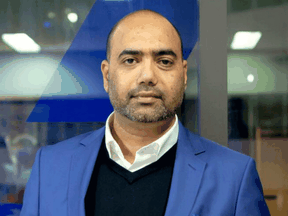 Snover Dhillon is listed as one of four directors of the National Kabaddi Federation of Ontario, a non-profit that was incorporated just this January, according to federal records. Photo by Facebook
As a back-room organizer in the Ontario Progressive Conservative Party, Snover Dhillon was a lightning rod for controversy.
Already convicted of fraud for unrelated matters, he was accused in the run-up to the last provincial election of crossing ethical lines in his work helping would-be Conservative candidates win nominations.
The party's new leadership made it a priority to clean up questionable practices that had plagued the nomination process, even cancelling some riding candidate elections.
Now Dhillon's name has come back to the fore in even more dramatic fashion, as police in India accuse him of ordering the murder of a prominent player in the ancient and popular Indian sport of Kabaddi.
According to startling, but unproven, allegations filed by Punjab Police, Dhillon wanted to eliminate Sandeep Nangal Ambia because of competition for players between the Kabaddi leagues they ran.
Article content
Ambia was shot dead during a game in the Punjab village of Mallian.
Why this happened to a good player, good man, nobody understands
A Punjab Police spokesman told the National Post the force will seek extradition of the Brampton, Ont, resident.
"He is one of the main conspirators and played a major role in this crime," alleged Senior Supt. Satinder Singh in a brief interview by phone and text. "Process for his extradition will be done as per law."
Singh declined to comment further, including on whether Punjab Police had been in contact with law enforcement in Canada. The investigation is still active, he said.
Dhillon, who quit the Conservative party shortly before Ontario's 2018 election, did not respond by deadline to several requests for comment.
Police say Sandeep was shot dead by a group of five assailants on March 14, stunning supporters of the unique sport, which combines elements of wrestling and rugby.
Article content
Indian MP Chaudhary Santokh told a memorial service that "whoever has murdered him has killed kabaddi," according to India's Tribune newspaper.
"He worked his way up to become the legend, the 'gladiator of kabaddi,'" Jazzy B, a popular Indo-Canadian singer, told the BBC's Asian Network. "It's just heartbreaking."
Five days later, the state-level Punjab Police announced they had solved the case, arresting four men they allege were involved in the killing. And they said they had "nominated" three other main conspirators, including Dhillon. Under Indian law, formal charges are approved by a magistrate once the accused is brought to court.
Dhillon is listed as one of four directors of the National Kabaddi Federation of Ontario, a non-profit that was incorporated just this January, according to federal records. Police allege he was trying to lure top players. But most were associated with Major League Kabaddi, which was managed by Sandeep, "rendering Snover's federation unsuccessful," charged a news release issued by the force.