Facial recognition identifies Rush singer Geddy Lee's mother in concentration camp photo
The free website has been used to analyze more than 500,000 photos containing about 2 million faces, with hopes of accessing about 700,000 more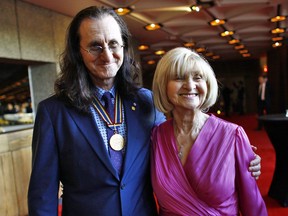 Rush singer Geddy Lee says his mother Mary Weinrib, seen here with him in 2012, was open about her experience in concentration camps in Germany. New software has identified photos of Weinrib, who died in 2021, in one camp. Photo by David Kawai/Postmedia/File
A website that uses artificial intelligence to help Holocaust descendants find previously unseen photos of their loved ones in image archives has uncovered a photo of Rush rocker Geddy Lee's mother.
Mary Weinrib, who died a year ago at the age of 96, survived Auschwitz before starting a new life in Canada back in 1946, with her husband, Morris Weinrib, whom she met in the concentration camp.
Mary Weinrib always shared her traumatic experiences in Auschwitz with her children, Lee has said, but now the family has new images that show what life was like during the Holocaust. A photo has been discovered that shows Weinrib at Bergen-Belsen, a concentration camp in northwestern Germany.
Weinrib was born Manya (Malka) Rubinstein in Warsaw in 1925. She grew up near a Jewish shtetl. In 1939, when Nazi soldiers took over her home, she was sent to a labour camp in Starachowice before being relocated to Auschwitz and later Bergen-Belsen.
Article content
In an interview with Q1043 New York, Lee said his mother survived through the strength of his grandmother, who kept the family together.
"She believed that if they were all going to perish, they would perish together and if they were all going to survive, they would survive together," Lee said.
Google software engineer Daniel Patt created the website From Numbers to Names (N2N), which uses facial recognition powered by AI to analyze photos of Holocaust survivors and match them with headshots provided by users.
"We reached out to Geddy Lee, from Rush, with a photo we thought was of his mother. He was able to confirm this was indeed a photo of her at the displaced persons camp at Bergen-Belsen," Patt told the Times of Israel.
Article content
"Geddy was then able to subsequently discover photos of his grandmother, uncles, an aunt and other extended family by browsing the Yad Vashem collection where the initial photo came from."
Patt said he started the project after visiting the POLIN Museum of the History of Polish Jews.
"I couldn't shake the feeling that I had potentially walked past a photo of a family member without even knowing it," said Patt. "I'm the grandson of Holocaust survivors, all from Poland."
Originally, Patt began working on this website during his free time and using his own resources.
Now, with a team of engineers and researchers, Patt hopes to partner with museums, schools, research institutions and other organizations that raise awareness about the Holocaust.