Federally funded Canadian group used by China to spread propaganda on Uyghurs, report finds
Two groups in Canada have consistently promoted Beijing's talking points on the Xinjiang region in the face of growing evidence of mass human rights abuses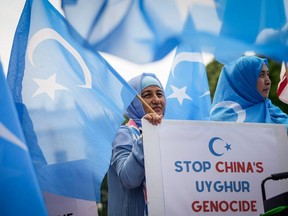 JULY 5: Supporters of the East Turkistan National Awakening Movement rally in front of the White House to commemorate the 13th anniversary of the July 5th Urumqi Massacre, July 5, 2022 in Washington, DC. Photo by Drew Angerer/Getty Images
Two Canadian community organizations — one of which has received thousands of dollars in federal funding — are prime examples of how the Chinese government has tried to covertly shape opinions worldwide about human rights abuses in Xinjiang province, says a new report by Australian academics.
A profile of the Xinjiang Association of Canada and the Ontario-based Council of Newcomer Organizations — which was co-founded by a former Liberal MP — forms one of four case studies in the Australian Strategic Policy Institute's Cultivating Friendly Forces report.
The two groups and their leaders have consistently promoted Beijing's talking points on the region in the face of growing evidence of mass human rights abuses against Xinjiang's Muslim populations, says the working paper by James Liebold, a professor at Melbourne's La Trobe University, and Lin Li.
The groups have been supported by China's diplomatic missions in Canada, while at least two of their directors were invited to attend events in China as privileged "overseas Chinese" leaders, says the report, based mostly on Chinese-language media reports and other open source material from the internet.
Article content
"The CCP (Chinese Communist Party) uses these organs as conduits for the spread of propaganda about the 'harmony, prosperity and happiness' of people in Xinjiang while deflecting and denying international criticism of its well-documented human rights abuses in the region," the analysis charges.
Such groups "can sow distrust and fear in the community, mislead politicians, journalists and the public, influence government policies, cloud our assessment of the situation in Xinjiang and disguise the CCP's interference in foreign countries."
The report urges more efforts by the media, academia and government to expose the Chinese government's global interference, including with the use of effective foreign-influence registries.
Article content
The National Post contacted leaders of the two groups and China's Ottawa embassy for comment on the report but had not received a response by deadline.
The report came as no surprise to Mehmet Tohti, head of the Uyghur Rights Advocacy Project.
The Chinese influence campaign against the Uyghur diaspora has several facets, including intimidation of community members and "hostage taking" like the 2006 imprisonment of Canadian activist Huseyin Celil, as well as "disseminating disinformation and fake narratives," he said by email.
"We may see more vigorous moves from China by awakening its sleeper cells in Canada and around the world to promote its narrative on Uyghur genocide and forced labour," Tohti added.