FIRST READING: Are Trudeau and Co. just wasting Europe's time?
Most of Canada now running for Conservative leader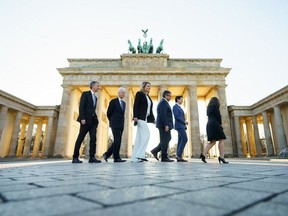 This Abbey Road-esque photo in front of Berlin's Brandenburg Gate was recently posted to the official Twitter account of Foreign Affairs Minister Mélanie Joly. Although it looks like the Canadian delegation is walking somewhere important, there aren't really any notable German government offices in the direction they're facing. Photo by Mélanie Joly/Twitter
First Reading is a daily newsletter keeping you posted on the travails of Canadian politicos, all curated by the National Post's own Tristin Hopper. To get an early version sent direct to your inbox every Monday to Thursday at 6 p.m. ET (and 9 a.m. on Saturdays), sign up here.
Prime Minister Justin Trudeau is now on the final leg of his European tour intended to strengthen NATO and otherwise check up on a continent descending into war. But it's a worthwhile question to ask what Trudeau has actually accomplished in the Old World. Here's a summary of what the prime minister hasn't done ….
Article content
And it's worth noting that every other main player in the Ukraine crisis has strenuously avoided leaving their capital city. Ever since the Russian invasion began on Feb. 24, Trudeau is really the only NATO leader who has journeyed outside his own borders.
Meanwhile, Trudeau's Europe trip has featured an awful lot of photo ops …
The Canadian delegation posted photos of themselves seeming to walk busily past Berlin's Brandenburg Gate. The monument isn't really between any offices that the group would have been visiting, so the image was almost certainly staged.
At a summit with U.S. Vice President Kamala Harris in Warsaw, Trudeau could be seen sporting his signature loud socks.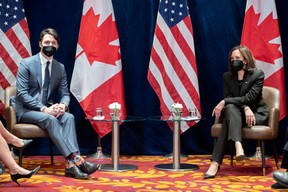 While there isn't a huge Canadian military presence in Europe right now, Trudeau did get some excellent photos of him with the Canadian Armed Forces' deployment to Latvia.
And, of course, perfectly composed images now abound of Trudeau deep in conversation with a who's who of European presidents, chancellors and prime ministers.
Article content
All that said, there are perfectly legitimate reasons for Trudeau to simply show his face around Europe at a time of crisis. National Post columnist Matt Gurney called it "showing the flag"; Trudeau entrenches Canada's usual friendships and alliances just by "being present." After all, Stephen Harper did this kind of stuff all the time: Harper's annual Arctic tour was similarly little more than a series of photo ops with the subtext of sticking it to Vladimir Putin.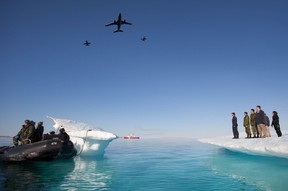 An opposing take comes courtesy of Terry Glavin. He called the whole tour "Operation Photo Opportunity."
CONSERVATIVE LEADERSHIP RACE
Jean Charest, the 63-year-old former Quebec premier who hasn't touched federal politics since the days of Brian Mulroney, is now officially a candidate for the Conservative Party of Canada. In a not-tremendously-high-energy video posted to Twitter, Charest invited Conservatives to line up behind his "built to win" team.