FIRST READING: Everyone's blaming Ottawa for tourism still being a disaster
Being 'fully vaccinated' could now require a shot every nine months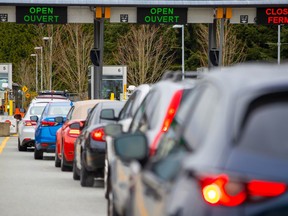 Line-up at the White Rock, B.C. Peace Arch border crossing: Tourism officials warn border measures such as the ArriveCan app risked putting a damper on the 2022 tourism season.
First Reading is a daily newsletter keeping you posted on the travails of Canadian politicos, all curated by the National Post's own Tristin Hopper. To get an early version sent direct to your inbox every Monday to Thursday at 6:30 p.m. ET (and 9 a.m. on Saturdays), sign up here.
Higgins' criticisms have been echoed by both Conservative and NDP MPs in Canada. This is particularly true of Conservative Tony Baldinelli, the MP for Niagara Falls.
"The continued use of (the ArriveCAN smartphone app) is placing a great impediment on the free flow of visitors into Canada. It's serving as a disincentive to wanting to come to Canada," Baldinelli said in a Commons committee just before the summer recess.
Both the United States and Canada require at least two doses of COVID-19 vaccine for entry. But Canada takes it a step further by requiring travellers to upload a whole suite of supplementary information to the ArriveCan smartphone app.
U.S. Customs and Border Protection will simply scan the vaccine cards of any arriving Canadians.
Article content
Travellers going the other way must upload the specific dates of their vaccines to ArriveCan, as well as precise details on the communities where they plan to visit and stay.
If U.S. travellers fail to complete an ArriveCan filing correctly — which can sometimes happen due to technical glitches — they can be barred entry even if they can show proof of vaccination. For Canadians, a botched ArriveCan filing can result in a 14-day quarantine order.
There are also no alternative options for travellers who do not possess smartphones; the Government of Canada simply advises them to find a friend who does.
Despite weeks of industry calls to abolish ArriveCan, last week Public Safety Minister Marco Mendicino hinted that he might be making the app a permanent component of entering Canada.
Article content
Mendicino has called the app "efficient" and claimed that "94.1 per cent" of land travellers had no problem figuring it out. The Customs and Immigration Union, however, has previously said that the 94.1 per cent number is "absolutely false."
Just three weeks ago, tourism officials testifying before the Standing Committee on International Trade warned that ArriveCan risked putting an artificial damper on the 2022 tourism season.
"ArriveCAN has not been proven to be the effective tool to stop COVID. It is largely viewed as a hindrance to travel, and it is causing significant delays upon arrival in Canada," said testimony by Beth Potter, CEO of the Tourism Industry Association of Canada.
The warnings were not heeded. Last week, the federal government announced that border measures would be staying exactly the same until at least October. An accompanying statement said the federal government was "deeply invested in growing our visitor economy," but that "the pandemic is not over."