FIRST READING: Is Zelenskyy wasting his time on Canada?
The case for making the Tory leadership race as ugly as possible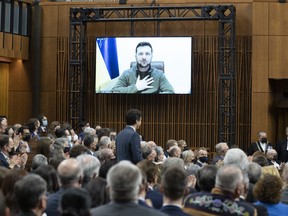 Ukrainian President Volodymyr Zelenskyy places his hand on his chest as he listens to Canadian Prime Minister Justin Trudeau deliver opening remarks before addressing the Canadian parliament on Tuesday, March 15. Photo by THE CANADIAN PRESS/Adrian Wyld
First Reading is a daily newsletter keeping you posted on the travails of Canadian politicos, all curated by the National Post's own Tristin Hopper. To get an early version sent direct to your inbox every Monday to Thursday at 6 p.m. ET (and 9 a.m. on Saturdays), sign up here.
Ukrainian President Volodymyr Zelenskyy has been particularly nice to Canada throughout his country's invasion by Russia. While he's accused the wider world of "losing humanity" in its limited aid to Ukraine, Zelenskyy has persistently referred to Canada (and Prime Minister Justin Trudeau specifically) as a "friend." Notably, his Tuesday address to the House of Commons was only his third address to a foreign parliament since the invasion.
This is all despite the fact that Canada is not really topping the leaderboard of countries that are helping Ukraine right now …
Article content
So the National Post's John Ivison found it all a little distasteful that the House of Commons was prepared to chant "Slava Ukraini" at the Ukrainian president without really changing any of the above points. "We have become a nation of sanctimonious free riders — helpless to act, save making the world safe for hypocrisy," he wrote.
After Zelenskyy's speech to the House of Commons, MPs did engage in a bit of a discussion on how Western air power might be used to protest Ukraine, to which Foreign Affairs Minister Mélanie Joly responded "the objective is to not to declare an international conflict, a third world war … we have a red line that we can't cross."
Zelenskyy's Wednesday speech to the U.S. Congress, meanwhile, yielded immediate results. Within hours of the address, U.S. President Joe Biden pledged an additional $800 million in military aid to Ukraine, including 800 anti-aircraft Stinger missiles and 2,000 Javelin anti-armour missiles.
Article content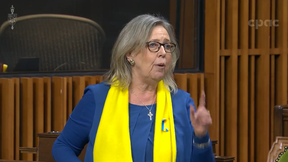 WAR IN UKRAINE
As Ukrainian refugees trickle into Canada, Quebec has warned them that their children better be prepared to learn French. For years, the rule in Quebec has been that foreign arrivals must enroll their children in French-language schools (there are English schools, but only for "historic" Anglophones). The Quebec English School Boards Association pressed for an exemption on Ukrainians, on the reasoning that many of them speak English instead of French. No dice; as one government spokesperson put it, "there's no question of authorizing English schooling for these refugees."
Canadians are one of the most well-represented nationalities among foreign fighters in Ukraine. A spokesperson for the International Legion of Territorial Defence of Ukraine recently told CTV that only the United States and Britain had more fighters in their ranks.