FIRST READING: So, is Ottawa still going to insist on that carbon tax increase?
Welcome Ukrainian refugees! (If you like months of red tape)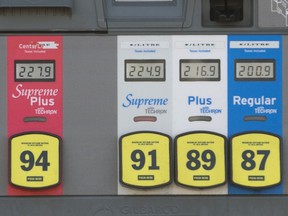 Your eyes do not deceive; this is a filling station in North Vancouver selling gas at more than $2 a litre. It's the first time that gasoline in a major Canadian market has ever cracked the $2 mark. Photo by Taehoon Kim/Bloomberg
First Reading is a daily newsletter keeping you posted on the travails of Canadian politicos, all curated by the National Post's own Tristin Hopper. To get an early version sent direct to your inbox every Monday to Thursday at 6 p.m. ET (and 9 a.m. on Sundays), sign up here.
You probably don't need a politics newsletter to tell you that gasoline is hideously, overwhelmingly, unbelievably expensive right now. Toronto-area gas prices of $1.75 per litre are already significantly higher than the prior record of $1.61. And in Vancouver, some gas stations are now posting prices above $2 per litre.
All told, it's the highest price for gasoline since petrol-powered transport was first introduced to Canada. A century ago, a litre of lead-infused gasoline would run you the inflation-adjusted equivalent of just 90 cents. Although it was much more expensive to get gasoline to market in those days, the lower price was largely due to the absence of any major fuel taxes.
The reason for the pricey gas?
Article content
Crushing sanctions against Moscow have caused whole oceans of Russian oil to be abruptly removed from the world market, leading to a global bidding war over whatever oil supplies are left.
Even before the Ukraine invasion, gas prices were already hitting historic highs due to an oil-thirsty world economy awakening from COVID lockdowns. At the same time, an oil sector that saw many of its operations mothballed by the pandemic was having a sluggish time returning to normal.
And, of course, the ever-present fact that Canadian gasoline is heavily taxed, often by all three levels of government at once. In Vancouver, every litre of gas is subject to 37 cents per litre in provincial and federal excise taxes, as well as five per cent GST.
Article content
Not only are chaotic world events expected to keep oil prices sky-high for weeks to come, but Canadian gas is poised to get even pricier once a new round of carbon taxes on April 1 adds another 3.2 cents per litre. If you drive a factory standard Ford F-150, the increase works out to an extra $2.74 per fill-up.
So, it's perhaps not surprising that fuel prices are set to once again become a major Canadian political issue.
Angus Reid Institute President Shachi Kurl told The Hill Times that rising carbon taxes will "pose some of the greatest challenges to the Trudeau government yet."
Brampton, Ont. mayor Patrick Brown (the former leader of the Ontario Progressive Conservatives) called on the federal government to freeze the April 1 increase, saying "now is the wrong time for any new burden." Alberta Premier Jason Kenney, whose government recently finished unsuccessfully suing the feds over the carbon tax, is naturally