FIRST READING: The NDP's Faustian bargain
Tories apoplectic about the NDP/Liberal arrangement (but here's why they shouldn't be)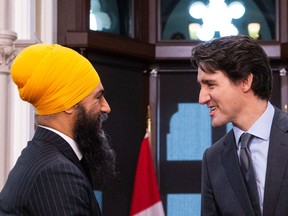 This photo is actually from an inconsequential meeting that Trudeau and Singh held in 2019. But expect to see it virtually everywhere for the next little while (including on almost every conceivable piece of Conservative advertising). Photo by THE CANADIAN PRESS/Sean Kilpatrick
First Reading is a daily newsletter keeping you posted on the travails of Canadian politicos, all curated by the National Post's own Tristin Hopper. To get an early version sent direct to your inbox every Monday to Thursday at 6 p.m. ET (and 9 a.m. on Saturdays), sign up here.
Here's a few times when NDP Leader Jagmeet Singh didn't have the nicest things to say about his rival, Liberal Leader Justin Trudeau …
Article content
So it's a little surprising that the NDP just struck a deal to keep Trudeau in power until at least 2025. Specifically, if a confidence motion comes before the House (and the Liberals love turning votes into confidence motions) the NDP have promised to always vote yes.
What was the price of the NDP signing off on three more years of Trudeau? They don't get any cabinet positions, but they do get these …
A new dental care program. This is the signature plank of the agreement, and for what it's worth it's actually something that the Liberals have previously included in their campaign promises.
An "anti-scab" law that prevents federally regulated industries from hiring replacements for striking workers.
10 days of paid sick leave for federally regulated workers.
A whole bunch of vague non-committal promises. Seriously, the prime minister's official statement about the deal uses the term "moving forward on" five times and pledges stuff like "continuing progress" on pharmacare.
Article content
The Conservative reaction has been … intemperate. Interim leader Candice Bergen subsequent press release, Tory HQ called it "backdoor socialism," "secret deal-making" and "a callous attempt by Trudeau to hold onto power."