Freedom Convoy protest organizer Tamara Lich granted bail after review
Lich will be released on a total of $25,000 in bond with conditions not to protest COVID mandates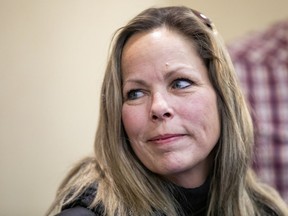 Arrested Thursday evening, Tamara Lich will remain in custody pending a judge's decision on a bail application on Tuesday. Photo by Errol McGihon /Postmedia
Tamara Lich, one of the principal organizers of the Freedom Convoy protest, has been granted bail after being held for two-and-a-half weeks on mischief charges.
Superior Court Justice John Johnston said an earlier judge made "errors in law" in her Feb. 22 decision to deny Lich bail — he said that the charges she faces are at a "lower scale" than other offences where bail was granted.
"I find that Ms. Lich does require a level of supervision if released," Johnston said, but that can be "managed" by the surety supervising her bail.
John Carpay, president of the Justice Centre for Constitutional Freedoms, which has provided representation to some convoy participants, said Lich's custody was "highly unusual," and noted she has no criminal record and is not charged with a violent crime.
"People accused of drug trafficking, illegal firearms possession and violent offences are routinely granted freedom prior to trial," said Carpay. A Justice Centre news release describes Lich as a "political prisoner."
Article content
Lich will be released on a total of $25,000 in bond with conditions not to protest COVID mandates or use any form of social media, and she must return to her home in Medicine Hat, Alta.
Lich was arrested Feb. 17 and charged with counselling mischief, the day before police moved in to disperse crowds that had gridlocked downtown Ottawa for three weeks using powers invoked under the federal Emergencies Act.
Ontario Court Justice Julie Bourgeois had ordered Lich detained, prompting her lawyer, Diane Magas, to make allegations of bias.
Bourgeois ran as a Liberal candidate in 2011, before she was appointed as a judge, and Lich's lawyer produced a video of Prime Minister Justin Trudeau lavishing praise upon Bourgeois as a federal candidate. That video clip referenced in court predated Trudeau's time as party leader and as prime minister.
Article content
That "reasonable apprehension of bias" was rejected by the reviewing judge on Monday, as Johnston found there was no evidence of bias in Bourgeois's original ruling.
In his decision, Johnston released Lich on bail with a list of strict conditions, including an order that she leave Ottawa within 24 hours, and Ontario within 72 hours.
She must must reside at her home address, and cannot log in or post messages on a variety of social media platforms. She was also ordered not to allow anyone to post messages to social media on her behalf.
Lich's husband was rejected at her initial bail review hearing as her surety — a person who comes to court and promises to supervise an accused person while they are out on bail.
The defence proposed a new surety during the bail-review, but their identity is shielded by a publication ban.
The Crown prosecutor says Lich will have to give the surety access to her electronic devices, and she will not be allowed to enter Ontario except for court hearing or to meet with counsel.
— With additional reporting by the Ottawa Citizen and The Canadian Press