Freedom Convoy raises millions on Christian site after GoFundMe freezes donations
The rapid influxes of donations have prompted questions about the origin of the funds and sparked concern about the use of online platforms for financing fringe organizations that could allow the interference of foreign entities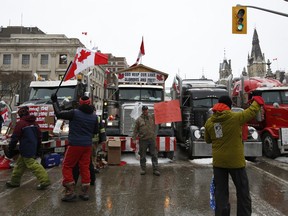 Protesters from the "Freedom Convoy" in front of Parliament Hill during a demonstration in Ottawa, Ontario, Canada, on Thursday, Feb. 3, 2022. Photo by David Kawai/Bloomberg
After being denied several million dollars raised on GoFundMe, organizers of a trucker-led protest disrupting life in Canada's capital have found a new platform: a Christian crowdfunding site where they raised more than $3.5 million in two days to demonstrate against the country's vaccine mandate.
The new fundraiser hosted by GiveSendGo, which describes itself as the "#1 free Christian crowdfunding site," reported Sunday that the "Freedom Convoy" campaign had raised several million dollars two days after GoFundMe announced that it was freezing more than $8 million in donations to the cause, a move that led Republican officials in the United States to announce investigations.
The rapid influxes of donations have prompted questions about the origin of the funds and sparked concerns among analysts about the use of the online platforms for financing fringe organizations that could allow the interference of foreign entities.
The convoy began as a protest to U.S. and Canadian rules requiring that cross-border truckers be fully vaccinated to enter either country, and it turned into a movement against many public health measures. The demonstrations have drawn praise from Republican leaders in the United States and left residents on edge — with police saying some have been subject to racist vitriol.
Article content
On Sunday, Ottawa declared a state of emergency as protesters in big-rig trucks blocked streets, shot off fireworks and blared horns.
The convoy is benefiting from national and international logistical and financial support, including from a "significant element" in the United States, Ottawa Police Chief Peter Sloly said last week.
"They have converged in our city, and there are plans for more to come," Sloly said, adding that the participants, who include locals and other Canadians, are "putting our city and our residents, our partners and our officers at great risk."
As of mid-Saturday, the Ottawa Police Service reported a thousand vehicles, about 5,000 protesters and at least 300 counterprotesters in the city's streets.
Article content
GoFundMe said Friday that it had removed a fundraiser for the convoy that had raised more than $8 million because it violated its terms of service. The company said it had released an initial $1 million in donations to Freedom Convoy organizers last week after they provided a clear distribution plan and confirmed that they would only be used for those participating in a peaceful protest.
But after receiving evidence from law enforcement that the "previously peaceful demonstration has become an occupation," the company said no additional funds would be distributed to its organizers and instead donors would have two weeks to submit a request for a refund, the company said. GoFundMe then would work with convoy organizers to send the remaining money to other charities.