Fully vaccinated cruise reports COVID cases on return to San Francisco
The cruise line said in a statement that infected passengers and crew were asymptomatic or showed mild symptoms.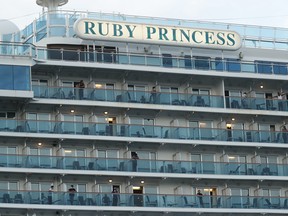 The Ruby Princess cruise ship departs from Port Kembla on April 23, 2020 in Wollongong, Australia. Photo by FILES /GETTY IMAGES
Passengers and crew on a Princess Cruises ship that arrived in San Francisco on Sunday have tested positive for the coronavirus, the cruise line said.
The Ruby Princess was returning from a 15-day trip to the Panama Canal. The cruise line said in a statement that infected passengers and crew were asymptomatic or showed mild symptoms. Those affected were "isolated and quarantined while monitored and cared for by our shipboard medical team." The carrier did not say how many people tested positive or when they tested positive during the trip.
All guests and crew on the ship were vaccinated, the cruise line said. Princess Cruises requires passengers to show a negative coronavirus test and proof of vaccination to board.
The carrier said guests who tested positive and had not completed the isolation period would return home by private transportation or be provided accommodations "ashore to hotels coordinated in advance for isolation and quarantine," in collaboration with the San Francisco health department and the Centers for Disease Control and Prevention.
Article content
The news comes two weeks after the CDC lowered its COVID warning for cruise travel to Level 2, or a "moderate" health risk. The CDC previously gave cruising a Level 4 rating – its highest level – during the omicron surge. The warning was moved to Level 3 in February.
Earlier this year, the public health agency lifted pandemic rules for cruise lines, shifting its guidance to voluntary recommendations for protocols including masking, testing, and vaccine requirements for passengers and crew. Cruise operators Carnival Corp., Norwegian Cruise Line Holdings and Royal Caribbean Group, which together represent more than a dozen brands, told The Washington Post in February that they would take part in the voluntary program. Princess Cruises is part of Carnival Corp.
Coronavirus cases have decreased in the United States, with a 7% drop in daily cases over the past week according to tracking data compiled by The Washington Post as of Monday. But a surge in cases in Western Europe this month fueled by a subvariant of omicron called BA.2, has put experts on alert for another potential wave.