GoFundMe pulls plug on fundraiser for convoy protesters
Crowdfunding site GoFundMe will refund or redirect to charities the vast majority of the more than $10 million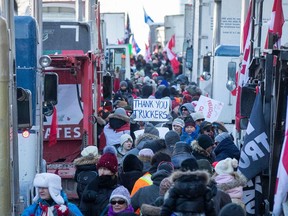 Supporters arrive at Parliament Hill for the Freedom Truck Convoy to protest against Covid-19 vaccine mandates and restrictions in Ottawa, Canada, on January 29, 2022. Photo by LARS HAGBERG /AFP via Getty Images
OTTAWA — Crowdfunding site GoFundMe will reimburse or redirect to charities the vast majority of the more than $10 million raised by demonstrators protesting COVID-19 measures in Ottawa, saying the event has become an occupation.
The move could deny participants a vital source of money as Ottawa braces for a new wave of protesters slated to arrive in the national capital this weekend.
GoFundMe said late Friday it supports peaceful protest and that it believes this was the initial intention of the Ottawa event.
The crowdfunding site said it now has evidence from law enforcement that the demonstration "has become an occupation, with police reports of violence and other unlawful activity."
GoFundMe said the fundraiser has been removed from its platform because it violates the site's terms of service, which prohibit the promotion of violence and harassment.
An initial $1 million was released to organizers earlier this week but, given how things have evolved, GoFundMe will issue refunds to donors and work with organizers to send remaining funds to "credible and established charities."
Article content
The Ottawa Police Service thanked GoFundMe for its decision.
"We want to thank â†*gofundme for listening to our concerns as a City and a police service," it said on Twitter. "The decision to withhold funding for these unlawful demonstrations is an important step and we call on all crowdfunding sites to follow."
Mayor Jim Watson also expressed his gratitude. Watson said in light of the unlawful behaviour that has transpired in the last few days, GoFundMe came to the right decision in support of the city and its residents.
"These protesters have been holding our city hostage for a week now, and I'm hopeful that limiting their access to funding and resources will restrict their ability to remain in Ottawa," Watson said on Twitter.
Article content
"I am imploring similar crowdfunding platforms to take the same position and not enable the group in its fundraising efforts, which would deal a blow to our efforts to put an end to this occupation."
Tamara Lich, one of the protest organizers, said in a video Friday that they have a new official donation site, the U.S.-based GiveSendGo, which calls itself a "Free Christian Crowdfunding" website.
The GiveSendGo website lists "Freedom Convoy 2022" as one of its trending campaigns.
Ottawa police are putting more officers on the street and trying to seal off the city's downtown core in anticipation of another influx of protesters this weekend.
Downtown residents have endured a week of blaring truck horns, blocked streets and racial taunts from aggressive participants. Many city-dwellers have expressed frustration with the fact little has changed days into the protest, branding it an occupation.