Here are the dark horses in the suddenly crowded Conservative leadership race
Whether these new contenders are serious in their bid to become leader or if they simply want to raise their public profile, remains to be seen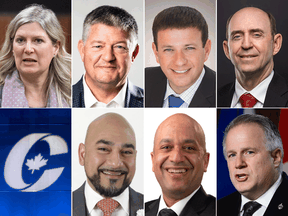 Conservative leadership hopefuls clockwise from top left: Leona Alleslev, Scott Aitchison, Roman Baber, Joseph Bourgault, Marc Dalton, Joel Etienne and Bobby Singh. Photo by Adrian Wyld/CP; Scott Aitchison Leadership Media Team via CP; Roman Baber via CP; Joseph Bourgault/Facebook; Jean Kilpatrick/CP; joeletienne.ca; bobbysingh.ca; Darren Calabrese/CP
While all eyes were on the four main contenders of the Conservative Party of Canada leadership race — Pierre Poilievre, Jean Charest, Leslyn Lewis and Patrick Brown — many other prospective candidates have thrown their hat in the ring in the past days and it is fair to say that the race is getting pretty crowded.
Whether these new contenders are serious in their bid to become leader or if they simply want to raise their public profile, remains to be seen after April 19, the cut-off date to meet all the requirements. Here are some of the most recent Conservatives who hope to make the cut and see their name on the ballot come September 10.
Scott Aitchison 
Scott Aitchison was mayor of Huntsville, Ont., before being elected MP for Parry Sound-Muskoka in 2019. He's now hoping to lead the Conservative Party of Canada as the unifying candidate who can bring his party and Canadians together.
"Throughout my career I have built teams by bringing people together to find consensus and work with each other to get things done. This is the right approach I want to bring to Ottawa so Canadians get better government," Aitchison told the National Post.
Article content
"We need leadership in Ottawa that will be focused on making the lives of Canadians better, rather than the politics of division we have seen for far too long," he said.
Aitchison was confirmed on Friday as an "approved" candidate, meaning he has submitted his first deposit of $50,000 to the party and was interviewed by the leadership committee. He still has to submit another $150,000 and a compliance deposit of $100,000 to be officially on the ballot.
Roman Baber 
Roman Baber, MPP for York Centre, got kicked out of the Ontario Progressive Conservative's caucus in early 2021 for criticizing Doug Ford's lockdown measures, and has since served as independent. He will not be seeking re-election in the Ontario election this year.
Article content
Instead, Baber will focus on trying to become the next leader of the Conservative Party of Canada because of what he considers to be an "erosion of Canada's democracy" after two years of COVID-19 restrictions and vaccine mandates, which are still in place under federal jurisdiction.
"I have spoken against lockdowns when it was unpopular, as early as January 2021. And I have spoken out for the rights of Canadians long before some of the other contestants in the race have taken the same position," said Baber in an interview with the National Post earlier this week.
If elected leader, he aims to unify the party as the "democracy candidate" and believes he can bring back Conservatives who have shifted away to the People's Party of Canada. Baber is also an "approved" candidate, but still has a few steps before he can be on the ballot.