Hidden costs of sugar consumption amount to $5 billion each year in Canada: study
In a first, a new U of A study quantifies the economic burden of excess sugar consumption from all aspects of the diet — not just sugary drinks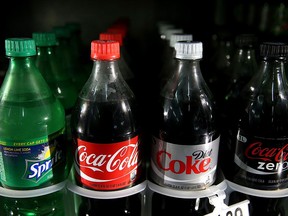 Forty countries and cities have introduced sugary drink taxes. University of Alberta researchers suggest a broader approach, including education programs, restricting advertising of certain products to children and more transparent labelling — as well as taxes on sugar-added products. Photo by Justin Sullivan /Getty Images
Sugar-laden foods and drinks come at a greater cost than the sticker price. In a first, University of Alberta researchers estimate the economic burden of all sugary products — not just beverages — on Canada's health-care system.
At $5 billion a year, according to the study published in the Canadian Journal of Public Health, sugar's monetary toll is substantial and goes beyond sweet drinks.
"Canadians consume way too much sugar. And it's not anywhere close to the recommendations that are out there," says principal investigator Paul Veugelers, professor in the U of A's School of Public Health.
General recommendations for free sugars — any sugar added to foods or drinks; plus naturally occurring sugar in fruit juice, honey or syrup — is less than 10 per cent of total energy intake, according to the World Health Organization and Canada's Food Guide.
Ideally, the U of A researchers say, free sugar consumption should be no more than five per cent.
Article content
Yet, two out of three Canadians eat more sugar than recommended, the researchers reveal in the study led by Siyuan Liu. Just 34 per cent met the general guideline; less than six per cent the ideal.
Excessive sugar consumption has been linked to increased risk of chronic diseases such as certain cancers, heart disease and type 2 diabetes. The researchers calculated the direct (doctors, hospitals and drugs) and indirect (productivity losses) costs of 16 diet-related diseases to arrive at their estimates.
Managing and treating chronic diseases in Canada amounts to 67 per cent of health-care costs — $190 billion annually.
This is not a time to put more tax on food. But at the same time, this is a time to act.
If Canadians had met the 10 per cent recommendation in 2019, the U of A researchers estimate that $2.5 billion could have been saved and instances of type 2 diabetes reduced by 27 per cent.
Article content
As for the ideal five per cent guideline, if Canadians had complied, more chronic diseases could have been prevented than with any other dietary recommendation, the researchers write. Rates of type 2 diabetes could have been lowered by 44.8 per cent and $5 billion saved.
Soda taxes have dominated sugar discussions in recent years: 40 countries and cities — including Berkeley, Calif., Mexico and the U.K. — have implemented them, Veugelers highlights.
In a Canadian first, Newfoundland and Labrador will instate a soda tax in September 2022 at 20 cents per litre; in April 2021, B.C. scrapped its provincial sales tax exemption on sugary beverages.
Despite this focus on sweet drinks, the researchers found that they are responsible for only 17 per cent of sugar-related health-care costs. Whether public health interventions include a soda tax or not, says Veugelers, they hope this finding is part of discussions.