Human rights expert Irwin Cotler accused of 'anti-Palestinian racism' over speech on anti-Semitism
U of T faculty members accused Cotler of suggesting that criticism of Israel is anti-Semitic, but he says that's 'an absolute misrepresentation'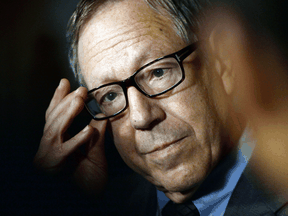 Cotler's speech on Jan. 26 prompted complaints from 45 University of Toronto faculty members who claim he "reinforced anti-Palestinian racism in a way that is consistent with a broader pattern of silencing and erasure of Palestinian voices." In response to the complaints against Cotler, over 300 University of Toronto faculty members signed an open letter meant to "draw attention to the falsehoods, twisted logic and anti-Semitic rhetoric that are contained in the letter sent by other Faculty members." Photo by Sean Kilpatrick/The Canadian Press/File
One of Canada's most-admired human rights experts has found himself at the centre of controversy at the University of Toronto, accused of "anti-Palestinian racism" by some faculty at a school often criticized as having an anti-Semitism problem.
Irwin Cotler gave a speech Jan. 26 that was meant to reflect on International Holocaust Remembrance Day. The event, organized by the university's Temerty Faculty of Medicine, was meant to discuss contemporary anti-Semitism. Cotler's speech discussed systemic racism from a human rights perspective with a focus on addressing anti-Semitism through equality.
But his speech prompted complaints from 45 University of Toronto faculty members who claim he "reinforced anti-Palestinian racism in a way that is consistent with a broader pattern of silencing and erasure of Palestinian voices." These faculty members have accused Cotler of suggesting that criticism of Israel is anti-Semitic.
Cotler, who is Canada's Special Envoy on Preserving Holocaust Remembrance and Combatting Antisemitism, said he specifically said all criticism of Israel is not anti-Semitic but rather singling out Israel as the single perpetrator of human rights violations is discriminatory.
Article content
"That is an absolute misrepresentation of what I have said over and over again," said Cotler, who is renowned for his work as a human rights lawyer and Jewish community leader. He served as the minister of justice and attorney general of Canada under former Prime Minister Paul Martin. He currently serves as the international chair of the Raoul Wallenberg Centre for Human Rights and is part of the Canadian delegation to the International Holocaust Remembrance Alliance.
In response to the complaints against Cotler, over 300 University of Toronto faculty members signed an open letter meant to "draw attention to the falsehoods, twisted logic and anti-Semitic rhetoric that are contained in the letter sent by other Faculty members."
Article content
This letter, published Mar. 7, was written by Doctors Against Racism and Anti-Semitism (DARA) and was addressed to the acting dean of the faculty of medicine, Patricia Houston.
David Kaplan, associate professor in the Department of Family & Community Medicine and Joint Centre for Bioethics at the University of Toronto, said this incident has come at a time when anti-Semitism on the University of Toronto campus has become a broader issue.
He mentioned a recent issue in which the student union at the university's Scarborough campus banned kosher foods affiliated with Israel as part of their Boycott, Divestment, and Sanctions (BDS) policy as well as the Graduate Student Union using university funds to support their BDS initiative.