'Jada, I love ya': Inside Will Smith and Chris Rock's long-running feud after Oscars smack
'Love will make you do crazy things,' Smith said after winning the Best Actor Oscar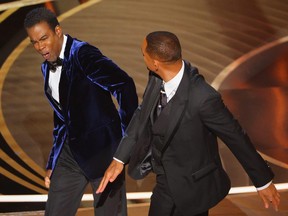 Will Smith hits Chris Rock as Rock spoke on stage during the 94th Academy Awards in Hollywood, Los Angeles, Calif., March 27, 2022. Photo by BRIAN SNYDER /Reuters
Apple's CODA might have made Oscars history after becoming the first streaming title to win Best Picture at Sunday night's Oscars, but the moment everyone was talking about Monday morning came when Will Smith (who would later go on to win Best Actor) slapped comedian Chris Rock.
As Rock was introducing Best Documentary at the 94th Academy Awards, the funnyman was poking fun at the couples in the audience. At first, the King Richard star laughed when Rock joked about his wife Jada Pinkett Smith. "Jada, I love ya. G.I. Jane 2, can't wait to see ya," he said referencing the 1997 film G.I. Jane in which actress Demi Moore shaved her head.
Pinkett Smith told Billboard in December she suffered from the autoimmune disorder alopecia, which causes hair loss and balding.
Cameras flashed on Smith, 53, smiling from his seat at Rock's dig while Pinkett Smith, 50, rolled her eyes and looked visibly unimpressed.
The next thing viewers and people in the audience saw was Smith storming the stage as he proceeded to smack Rock.
Article content
"Oh, wow! Wow! Will Smith just smacked the s— out of me," Rock said as the audience laughed, thinking it was an act.