Jean Charest entering the Conservative leadership race: 'I will make this party win'
'I'm a Conservative who believes in fiscal conservatism, who believes in a market-based economy, who believes in the federal system,' Charest tells Postmedia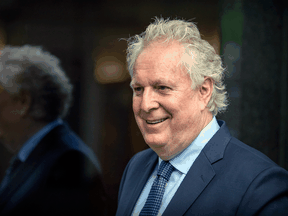 Jean Charest said he wants to "put Alberta back at the table," if he becomes leader of the federal Conservatives. Photo by John Mahoney/Postmedia/File
Jean Charest is officially entering the leadership race of the Conservative Party of Canada on Thursday and he is already doing a lot of talking about winning.
Charest told the National Post in an exclusive English interview, before he formalizes his announcement tonight at a rally in Calgary that he's been preparing all his life to become leader of the Conservative Party of Canada and then prime minister of Canada.
"I will make this party win," insisted Charest. "Not only will it win, but I will deliver a majority national government with representation in every part of the country, and I want to put Alberta back at the table, where decisions are shaped and made… I know how significant that is."
His slogan for the next six months will be "Built To Win", a message that focuses not only on his political experience, but also on his conviction that he is the right man for the job.
Article content
"At the end of the day, there is a very simple, a very real question, and that's who can make us win? That's also part of the equation, and that's one of the choices that the membership of the party is called upon to make," he said. "Everything I've done in my lifetime has prepared me for this moment."
Charest led the federal Progressive Conservative Party from 1993 to 1998, and served in former prime minister Brian Mulroney's cabinet before that. In 1998, Charest went on to lead the Quebec Liberals in order to slow the progress of the separatist Parti Quebecois.
He became Quebec's premier in 2003, a position he held onto until 2012 when he was defeated in his own riding and his party was sent to the opposition benches after a massive student crisis.
Article content
After having spent nearly a decade in the private sector, which he said he very much enjoyed, Charest decided to jump back into the political sphere because he wants to help heal what he sees as a divided Canada.
"I look at the country, and we're badly divided, we're underperforming. Our fiscal situation, especially coming out of COVID, is far from being in control. The economy is withering, our status in the world has been diminished and we're badly divided," he said.
He also thinks the country will benefit from his many years in federal and provincial politics.
"I made the choice to go now because I have this experience. I know how this federal system works, and I know how to make it work and to make it work efficiently to get big things done. I think Ottawa would benefit from that," he said.