Justin Trudeau blasts trucker protest as key Ambassador Bridge to U.S. shuts down
Bridge the most important land crossing for goods between Canada and U.S. and a crucial artery for auto parts suppliers and manufacturers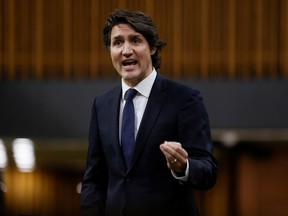 Prime Minister Justin Trudeau speaks about the trucker protest during an emergency debate in the House of Commons on Parliament Hill in Ottawa, Monday night. Photo by Blair Gable/Reuters
Protests over vaccine mandates and COVID-19 restrictions widened across Canada, with truck blockades halting commercial traffic at critical border crossings including the Ambassador Bridge into Detroit.
Then nearly century-old structure that connects to Windsor, Ont. was shut down in both directions late Monday. The land crossing is the most important link for goods moving between Canada and the U.S. and a crucial artery for auto parts suppliers and manufacturers. About 1.4 million trucks entered the U.S. through Detroit last year, almost all of them via the bridge.
The bridge reopened to U.S.-bound traffic later Tuesday morning.
Another border crossing at Coutts, Alberta, which had already been partly blocked by truckers, was also completely closed for a time, the Canadian border agency said. It's the main route for the province's commercial vehicles bound for the U.S. and one of the busiest border posts in western Canada.
Article content
The blockades represent a potentially dramatic escalation for protests that began in late January when a convoy of truckers moved into Ottawa, paralyzing Canada's capital city. Prime Minister Justin Trudeau warned in an address to Parliament the demonstrators threatened to hobble the economy and undermine democracy.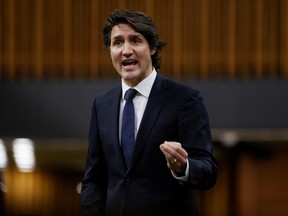 "This pandemic has sucked for all Canadians," the prime minister told lawmakers in an emergency debate Monday evening. "Everyone's tired of COVID, but these protests are not the way to get through it."
Government officials and law enforcement, meanwhile, have been struggling to come up with ways to contain the demonstrations, often squabbling over jurisdiction. There is increasing chatter on social media that truckers, who have been championed on Fox News and repeatedly endorsed by Donald Trump, intend to begin setting up blockades in the U.S.
Article content
State of emergency
Police in Windsor said the bridge reopened to U.S.-bound traffic Tuesday morning, though it appeared to still be blocked going in the other direction. Canada's border agency still listed the bridge as closed in both directions as of 9:25 a.m. New York time.
In Canada's capital, police have begun trying to cut off supplies to the trucker convoy but have so far been unable to contain the demonstrations, prompting the city of Ottawa to declare a state of emergency. The protesters, who have garnered global attention, say they won't leave until all Covid health restrictions are dropped.
Citizens in Ottawa have also taken to courts, winning a key legal battle Monday when an Ontario Superior Court judge ordered a 10-day halt to deafening blasts from truck horns that have traumatized downtown residents.