KINSELLA: Jean Charest looks like only adult in Conservative leadership race
Jean Charest has been on the receiving end of plenty of nasty Poilievre attacks. But he hasn't responded in kind.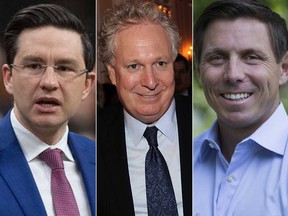 Pierre Poilievre, left, Jean Charest, centre, and Patrick Brown are running for the leadership of the Conservative party. Canadian Press / Postmedia Network / Files
So, Pierre Poilievre and Patrick Brown are ripping each other's faces off.
Basically, that's what they're doing.
The Conservative leadership candidates are going at each other, hard. Poilievre calls the Brampton mayor a liar and is running glossy ads attacking him.
Brown is suggesting Poilievre is a bigot, and issuing official statements calling the Tory MP's policies "abhorrent."
Jean Charest, meanwhile, has been on the receiving end of plenty of nasty Poilievre attacks. But he hasn't responded in kind.
Article content
Here's what they are about: working the phones, raising money, and selling memberships. Being positive about your team.
Here's what leadership contests aren't about: attack ads, war rooms, and take-no-prisoners politicking. Being negative about your team.
All of that may seem to be blindingly obvious, but not to pipsqueaks Pierre and Patrick. Poilievre and Brown don't seem to get that.
In a very short period of time, they have dragged the race deep down into the muck — disappointing Conservative partisans, and delighting Justin Trudeau and his Liberals. Because, make no mistake, Trudeau's war room has clipped and saved Poilievre and Brown's attacks. And they're going to use that stuff to hurt the Tory campaign in the next federal election. It'll work, too.
Article content
What Poilievre and Brown are doing is damaging, dumb and destructive. Three reasons.
One, after the race concludes in September, does anyone truly expect these two to present a unified, positive alternative to Trudeau's Grits? Not a chance. They make the Hatfields and McCoys look like a good-natured rivalry.
Two, like the cliché says, if you can't manage your own party, nobody will trust you to manage an entire country. Poilievre and Brown resemble a couple of petulant children. Based on their conduct so far, they don't need a shot at power — they need separate sandboxes and a timeout.
Three, they are turning off Tories in droves. Since the Toxic Twins commenced their tong war, we in the media have heard from countless Conservatives who are disgusted by their conduct — and have already decided Justin Trudeau, or Justin Trudeau's successor, cannot possibly be beaten. Again.