Kremlin paper confirms 10,000 Russians killed so far in invasion
The shock admission comes as strongman Vladimir Putin has downplayed Russian casualties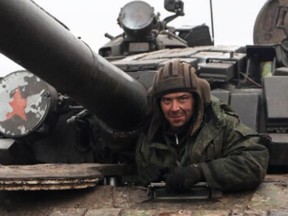 A member of a pro-Russian militia is seen inside a tank in the self-proclaimed Luhansk People's Republic (LNR) in Ukraine, on Feb. 27, 2022. Photo by Reuters /Tornto Sun
A Kremlin-connected newspaper is reporting that more than 10,000 Russian soldiers have been killed since the invasion of Ukraine kicked off on Feb. 24.
The shock admission comes as strongman Vladimir Putin has downplayed Russian casualties in the deeply unpopular war.
According to Komsomolskaya Pravda, citing the Russian ministry of defence numbers, the casualty rate far outstrips previous claims. So far, it said, around 9,861 soldiers have died and that number now likely exceeds 10,000 killed in action.
"Komsomolskaya Pravda, the pro-Kremlin tabloid, says that according to Russian ministry of defence numbers, 9,861 Russian soldiers died in Ukraine and 16,153 were injured," wrote Yaroslav Trofimov, Wall Street Journal chief foreign affairs correspondent, who posted his find on Twitter Monday.
That figure is a far cry from "the last official Russian KIA figure, on March 2, was 498. Fascinating that someone posted the leaked number."
Article content
Many of the Russian casualties have been conscripts who had no desire to wage war on Ukraine and only discovered their true mission in the final moments before it was launched.
Ukraine has revealed that hesitancy via videotaped messages from captured Russian soldiers who have claimed they had no idea what they were getting into. The POWs have also urged Russians to rise against Putin.
So far, the Russian invasion has been a disaster in intelligence, planning and logistics with shortages of food, gasoline and ammunition.
Alexei Zheleznyak, who surrendered, said in a press conference: "Putin, without declaring war, is bombing residents, hospitals, cities of Ukraine. People of Russia, don't look at the zombies. The Ukrainian people are brave people. They will stop this (Russian) equipment even without weapons. They are united."
He added: "No matter how much Putin sends his troops here, he will not capture this territory … Our commander-in-chief is a liar and a deceiver of all our people. He deceived not only us, but the whole of Russia. He simply made fascists out of us."
@HunterTOSun