Lametti to address controversial Supreme Court ruling on 'extreme intoxication' in Criminal Code amendment
The court struck down as unconstitutional a law prohibiting the use of extreme intoxication as a defence for certain violent offences, including sexual assault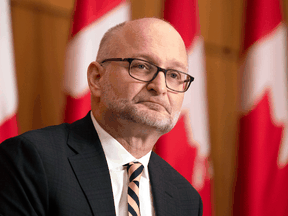 Federal Justice Minister David Lametti. Photo by Adrian Wyld/The Canadian Press/File
OTTAWA — The federal government will introduce legislation to amend the Criminal Code in response to the Supreme Court's controversial decision on "self-induced extreme intoxication."
Minister of Justice David Lametti put a bill on notice entitled "An Act to amend the Criminal Code (self-induced extreme intoxication)" that should be introduced on Friday. Lametti's office would not discuss the contents of the bill, citing parliamentary privilege.
Canada's top court struck down as unconstitutional the law prohibiting the use of extreme intoxication as a defence for certain violent offences, including sexual assault.
In the unanimous decision, released last month, Justice Nicholas Kasirer explained that it violated sections of the Canadian Charter of Rights and Freedoms, since a person's decision to consume intoxicants should not be interpreted as an intention to commit a violent offence.
Article content
The decision also added that Parliament could enact new legislation to hold extremely intoxicated persons accountable for violent crimes.
But the Supreme Court has not left a lot of wiggle room for the government, according to Kerri Froc, an associate professor at the Faculty of Law at the University of New Brunswick.
"What I would want to see is that there is some onus put on an accused, who is voluntarily ingesting mass quantities of intoxicants to demonstrate, for instance, that there wasn't any foreseeability that this would create a risk that he would lose control," she said.
Article content
Froc, who is an expert in women's constitutional rights, said that the accused should have to "bear some burden" to show that their choice to indulge in extreme intoxication would make them lose control of their actions and potentially exhibit some violent behaviour.
"I think that's something that Canadians would say is reasonable," added Froc.
The other aspect that the top court touched on in its decision and could be included in the new bill is what kind of substances were consumed by the accused. For instance, the government could propose that extreme intoxication defence could not apply if only alcohol is consumed.
Section 33.1 was added to the Criminal Code in the 1990s, after a man was acquitted for violent rape while he was intoxicated with alcohol only and claimed to have no recollection of the events. The courts could not prove that he formed the intent to commit a sexual assault.