Last gasp for masks: Provinces end COVID mandates but some doctors say to keep them
'When people say, "What does the science show," people are expecting a home-run, slam-dunk answer that's black and white. That's not how science works'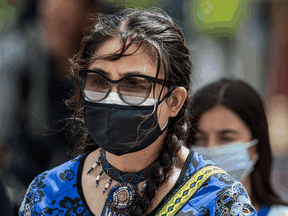 Over the course of the COVID pandemic, attitudes changed from mocking mask wearers to shaming mask abstainers. Photo by Peter J. Thompson/National Post/File
Provinces have begun reassuring people it's now safer to unmask in schools and indoor public places but, like so many pandemic pivots, the answer as to whether the timing is right is complicated.
"There is no bright line saying, 'Now is the time to remove mask mandates,'" said University of Alberta health policy expert Timothy Caulfield. Regardless of which side people are on, the "masks for all" or "masks for none," people are overemphasizing and under-emphasizing data to advance their own "pre-concieved narratives," said Toronto infectious diseases expert Dr. Isaac Bogoch.
Alberta Premier Jason Kenney has said that public health and not politics was behind his government's decision to lift its provincial mask mandate as of Tuesday, and an emboldened Kenney is moving to force all Alberta municipalities to follow suit. "We certainly shouldn't allow political science to be a substitute for public health science," he said.
Article content
"Really? What science?" Caulfield said. He gets that people want to move on. "I don't support the idea that we should all use masks forever in every situation. These mandates will end," Caulfield said. "But we shouldn't pretend — one way or another — that science is crystal clear about timing."
Masks have been a cultural flashpoint throughout the pandemic, "with a volte-face in attitudes from mocking mask wearers earlier in the pandemic to shaming mask abstainers," Bogoch and colleagues wrote in a review of COVID false dichotomies.
Some pro-mask proponents, the authors said, have hyped masking with overconfident slogans, like, "The science is simple. Masks work!" In some cases, simulation or "quasi-experimental" studies have been overinterpreted and overplayed without duly noting important limitations.
Article content
On the other side are two anti-mask camps, the researchers said, one group demanding definitive evidence from randomized controlled trials, the other mocking the use of "muzzles" or "face nappies" because of notions of forced conformity, infringements on civil liberties or "toxic masculinity."
Data support that masks, when worn correctly, can reduce transmission of SARS-CoV-2 in two ways, according to the authors of a JAMA review article. They help prevent infected people from exposing others by blocking virus-containing droplets exhaled into the air, and they protect the uninfected by forming a barrier to keep those expelled globules from landing on exposed mucous membranes of the nose and mouth. Masks can also partially filter out smaller droplets.