Man shot dead with arms raised in drone video, Ukrainians gunned down in bread line: reports
The video was taken by a volunteer drone pilot, who said he wanted to defend his country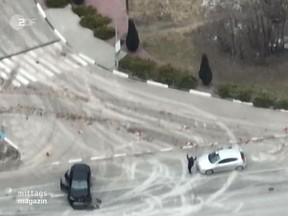 Photo by @ZDFfrontal/Twitter
As the war in Ukraine continues, more stories of attacks against civilians are surfacing, including a motorist reportedly shot dead by Russian soldiers and civilians killed in line for bread.
On Wednesday, the United States said Russian forces had shot and killed 10 people waiting in line for bread in the city of Chernihiv. It did not cite evidence of the attack and Russia did not comment on the allegation, made in a U.S. Embassy statement.
Article content
The governor of Ukraine's Zaporizhzhia region said Russian forces had fired heavy artillery at a convoy of evacuees from the southern port city of Mariupol, wounding five people. Ukraine's military said children were among the casualties. Russia says it does not target civilians.
Video captured by a civilian drone shows a motorist in Ukraine being shot by a group of what appears to be Russian soldiers near Kyiv, according to an investigation by German publication ZDF Frontal.
A man can be seen getting out of a car and putting both of his arms up in the air before being shot and falling down.
The drone's pilot, who calls himself Zanoza, told ZDF he wanted to defend his country as a volunteer.
"I was observing Russian tank positions on the road for some time," he said. "The driver got out of the car, raised his hands and was shot by Russian soldiers."