More than annoying: What trucker convoy's nearly nonstop honking could be doing to people in Ottawa
'You just got vehicles driving around and sitting outside your building, laying on their horns for hours and hours and hours and hours at a time'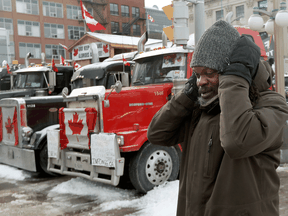 A man covers his ears while passing honking trucks in Ottawa on Thursday. Lots is known about the health risks of noise, including cardiovascular disease, cognitive impairment, sleep disturbance and mental health impacts. Photo by Tony Caldwell/Postmedia
Residents of Ottawa have had their eardrums and nerves jangled by the near-constant honking coming from the convoy of trucks that rolled in late last week and, ever since, has clogged up downtown.
Peter Simpson lives several blocks from Parliament Hill, and the last week has been one of constant disruption. Having lived downtown for more than two decades, Simpson says he's no stranger to protest, but this is something altogether different.
"You just got vehicles driving around and sitting outside your building, laying on their horns for hours and hours and hours and hours at a time," said Simpson. "We don't live on Parliament Hill. It's very difficult to work or relax or to do anything."
Politicians, including Prime Minister Justin Trudeau and Ottawa Mayor Jim Watson, have implored protesters to leave the city.
"It's time for these people to go home," said Trudeau Thursday.
Constant exposure to high levels of noise is well-known to have deleterious effects on both mental and physical health; a 2018 report from the World Health Organization says it's "among the top environmental risks to health."
Article content
Lots is known about the health risks of noise, including cardiovascular disease, cognitive impairment, sleep disturbance and mental health impacts. The European Environment Agency estimates 12,000 premature deaths annually result from long-term exposure to noise.
Tor Oiamo, a professor of geography and environmental studies at Ryerson University, said the effects of shorter exposure to noise are far less well known, although there are some obvious physical and mental responses.
"If there's sort of a jarring or a sudden noise, you know, we evolved to pay attention and try to discriminate whether that's a indication of something harmful or not," said Oiamo. "And the way we perceive those, really, it's through annoyance or being disturbed or even being frightened in the short term."
Article content
The City of Ottawa noise bylaw spells out clearly the rules, saying "ringing a bell, blowing a horn or shouting or causing unusual noise in a manner that disturbs inhabitants" is against the law.
The fines range from $400 up to $10,000. Ottawa police said eight tickets have been issued for "improper noise" such as honking of horns.
Yet, the honking continues. Simpson said the options for keeping things tolerable are limited — turn up the music, wear headphones.
"Frankly, (you just) focus on calming yourself down," he said.
The noise has abated since earlier in the week, Simpson said, but there are concerns the protest will ramp back up this weekend.
It's tough to say what the noise level in Ottawa has reached.
The National Post asked the city if bylaw services had taken any noise readings downtown; a spokesman did not answer the questions, but instead sent a lengthy statement, which said bylaw officers had "not issued any noise-related tickets to those participating in the ongoing demonstration." The Ottawa Police Service, asked the same question, said the police "do not take noise readings."