Musk says he'll fight Putin using 'only my left hand'
"Thank you for the offer, but such excellent training would give me too much of an advantage," Musk said in a tweet. "If he is afraid to fight, I will agree to use only my left hand, and I am not even left-handed."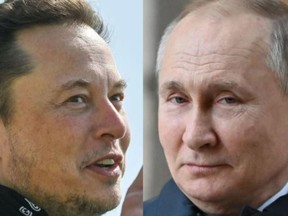 Vladimir Putin's pals are rushing to defend the Russian president after rich guy Elon Musk's bizarre challenge — and the SpaceX founder is doubling down. GETTY IMAGES
Vladimir Putin's pals are rushing to defend the Russian president after rich guy Elon Musk's bizarre challenge — and the SpaceX founder is doubling down.
"Thank you for the offer, but such excellent training would give me too much of an advantage," Musk said in a tweet. "If he is afraid to fight, I will agree to use only my left hand, and I am not even left-handed."
Musk signed off with "Elona," the "effeminate name Kadyrov gave him.
Kadyrov, who has been accused of serious human rights violations, said: "You'll need to pump up those muscles in order to change from the gentle Elona into the brutal Elon that you need to be."