My dinner with Putin: What a Canadian learned from her strange encounter with Russia's president
When the art historian flew to Moscow, she didn't realize that at just 22 she would be one of the stars in a strange 'show and tell'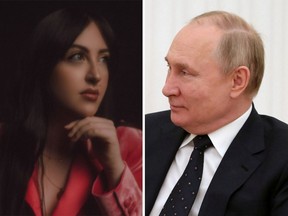 Maya Asha McDonald, a Canadian art historian, says her encounter with Vladimir Putin at a strange private dinner three years ago leaves her fearful for the future of besieged Ukraine's cultural artifacts. Photo by Handout // Sputnik / Mikhail Klimentyev / Kremlin via Reuters
Maya Asha McDonald is a naturally curious person, she says, and accepted the invitation readily.
It was certainly a unique opportunity. An acquaintance in London had asked her to join him at a black-tie dinner in Moscow — with Vladimir Putin.
What the art historian from Gimli, Man., didn't realize is that at just 22 she would be one of the stars in a strange "show and tell" for the Russian president, an unnerving experience that now makes her more fearful than ever for Ukraine's cultural heritage.
As the dinner plates were cleared away at the "palatial" mansion of an oligarch who was recently sanctioned by Western countries, she was summoned to sit next to Putin and discuss her specialty, byzantine religious art.
The Canadian was taken aback by his knowledge of the rarefied topic and by his chauvinistic, competitive attitude generally toward Russia's artistic tradition.
Article content
The hairs on the back of my head stood up
"It was so possessive the way he talked about it, it really felt unhealthy," she said. "That word 'greatness' came up multiple times. It felt very propaganda-y…. The hairs on the back of my head stood up."
McDonald is convinced the Kremlin is already looting Ukraine of art treasures tied to the Russian heritage Putin extolled that night. And she believes his forces aim to simply destroy more uniquely Ukrainian works, part of a bid to erase his neighbours' identity overall. As evidence, she cites the mass removal of artifacts from Crimea after Moscow "annexed" it in 2014, and the recent destruction of a gallery devoted to a renowned Ukrainian folk artist.
The fate of the art aside, she was also struck by a man who seemed to enjoy intimidating his guests and was blatantly sexist, staring at her chest and having her sit in a position that let him gawk at her legs.
Article content
"He looked me up and down in a way that was overt and slow and the whole table kind of chuckled," McDonald recalls. "His eyes would go down to my neckline as I was talking and then go up. It was very clear he was doing this; it was not subtle."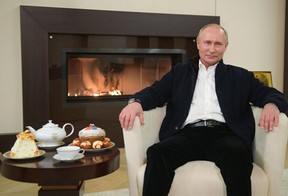 Art historians like McDonald are the first to note that the greatest tragedy of this war, like any other, is the immense human suffering. In Ukraine's case that includes a death toll among civilians in the thousands, the pitiless siege of cities like Mariupol and the exodus of more than three million refugees.
But she's not alone in also fearing for Ukraine's rich trove of art and architecture as Russian troops increasingly bombard cities with artillery, missiles and aerial bombing.