Omicron's reduced severity will make living with COVID 'easier': study
Even among unvaccinated cases, the risk of ending up in hospital was 70 per cent lower, and the risk of death 80 per cent lower, if infected with Omicron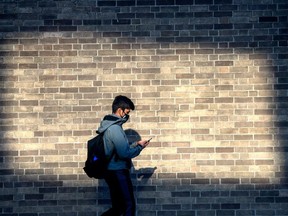 A pedestrian walks through a blade of light in Toronto during the Covid 19 pandemic, March 10, 2022. Photo by [Peter J Thompson/National Post
A massive studying involving more than 1.5 million COVID infections in England provides "clear evidence" Omicron is less deadly than Delta, British scientists are reporting — evidence they say bolsters the case for dropping COVID restrictions.
After adjusting for age and other factors, people with Omicron had a 59 per cent lower risk of being admitted to hospital, and a 69 per cent lower risk of dying, compared to people infected with Delta.
The risk of hospitalization was significantly higher for the unvaccinated. But even among unvaccinated cases, the risk of ending up in hospital was 70 per cent lower, and the risk of death 80 per cent lower, if infected with Omicron compared to unvaccinated people infected with Delta, compelling evidence, the researchers said, that Omicron is intrinsically less severe than Delta.
Vaccines were somewhat less effective at keeping people with breakthrough Omicron infections out of hospital compared to breakthrough Delta cases. But the risk of hospitalization was much higher for the unvaccinated, and the boosted were the most protected: Those vaccinated with three doses were 80 per cent less likely to be admitted to hospital or die than the unvaccinated.
Article content
Omicron's reduced severity "will make the goal of living with COVID-19 in the absence of socially and economically disruptive public health interventions substantially easier to achieve at the current time," the researchers wrote in The Lancet.
"Interestingly, how much severity is reduced varies by age, with the greatest reduction in severity seen in 50- to 70-year-olds, and a smaller reduction in younger and older age groups," Imperial College London's Neil Ferguson, one of the authors, said in a statement. In November, when Omicron was beginning its surge, Imperial College researchers said there was no evidence it was less deadly than Delta, and that Omicron's ability to elude some protection from a previous infection or vaccination could mean the variant posed a "major, imminent threat to public health."
Article content
That was based on early and limited data at the time. The latest analysis showing a substantial drop in severity "has undoubtedly made it easier for countries to end pandemic restrictions than might otherwise have been the case," Ferguson said.
Across Canada, provinces are phasing out masking and vaccine mandates. Dancing in bars is now on again in Prince Edward Island. New Brunswick has ditched all distancing rules. As of April 1, vaccinated travellers will no longer need to show a COVID-19 test to enter Canada, the federal government announced Thursday.
There's no guarantee a future variant won't be more virulent, Ferguson and his colleagues cautioned. Omicron's sibling, the BA.2 subvariant now driving record case counts and deaths in some parts of the world, is on its way to becoming dominant across Canada. About half of confirmed new COVID-19 cases in the country are BA.2, Sarah Otto, a professor of evolutionary virology at the University of British Columbia told the Ottawa Citizen's Elizabeth Payne this week.