Ontario lifts mask mandates in most public spaces
Public transit, health-care facilities, long-term care homes and congregate care settings will keep mask mandates until the end of April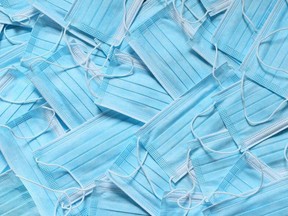 Disposable face masks. SunMedia
Ontario residents were able to shop, see a movie, and take in a hockey game without wearing a mask for the first time in about a year-and-a-half as the province lifted face-covering mandates for most public spaces Monday.
Students in public schools were also able to attend class without wearing a mask, though many chose to keep wearing them.
Branav Jalan said his six-year-old daughter, who is double vaccinated, will be wearing a mask at her elementary school in Toronto for now.
"I have seen majority of the people (at school) are still wearing masks, so I think that that's a good step," he said. "I feel it's good to be back after spring break, so let's hope that everything continues in a good sense."
Sudhir Kesarkar said his 10-year-old son will be wearing a mask for a little while longer, but once the boy receives his second vaccine dose in a few weeks, Kesarkar will feel "absolute comfort" sending his son to school without a mask.
Article content
Several school boards had wanted more time to keep mask mandates, but those requests were denied by the chief medical officer of health. The Hamilton-Wentworth school board has said it still plans to keep a mask requirement until April 1.
Select settings such as public transit, health-care facilities, long-term care homes and congregate care settings will keep mask mandates until the end of April, but masks are no longer required in most other public spaces, including restaurants, bars, gyms, retail, cinemas, theatres, sports venues, and meeting and event spaces.
However, individual businesses can keep mask mandates or a proof-of-vaccination system for customers, the latter of which was dropped provincewide March 1.
Article content
Provincial politicians and top health officials say public health indicators have improved enough to remove mask rules, which have also been lifted in other jurisdictions across Canada and around the world, though many epidemiologists and infectious diseases physicians have said the mandates should have stayed – particularly in schools – for a few weeks longer.
Chief Medical Officer of Health Dr. Kieran Moore has said making masks optional does not signal that COVID-19 has disappeared or that the pandemic is over, but it means that Ontario has come to place where it can now manage the virus.