Ontario to eliminate most mask mandates on March 21
Remaining mandates for higher risk settings such as long-term care, hospitals and transit, will be dropped on April 27.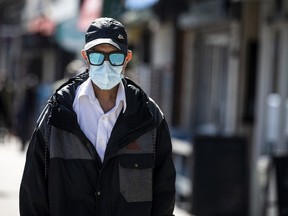 File: COVID-19 masking in Ottawa Photo by Ashley Fraser /Postmedia
Masks will no longer be required in most public settings in Ontario — including schools — as of March 21, the province announced Wednesday.
On April 27, 18 months after masks were first made mandatory in indoor settings in Ontario to reduce the spread of COVID-19, all remaining provincial mask mandates for higher-risk settings including long-term care homes will also be dropped. The province will also end vaccine mandates, including for high-risk environments.
Ending mask requirements is part of the shift to "learning to live with and manage COVID-19 for the long term" announced by the province's Chief Medical Officer of Health, Dr. Kieran Moore, on Wednesday.
But he said it didn't mean the pandemic was over.
"Removing the mask mandate does not mean the risk is gone. COVID transmission is still occurring and masks can protect you and others from becoming infected."
Article content
Moore said he would continue to wear a mask in crowded indoor spaces. He encouraged others to do so as well, after assessing their risk, and pleaded with members of the public to be tolerant of and kind to people who continue to wear masks after the mandate has been lifted.
"You can't mandate masking forever. It has to be an individual choice based on risk assessment." He acknowledged the risk remains, but said people had the right not to wear a mask.
The news was controversial even before Wednesday's official announcement, with many calling for mask use to be continued longer in schools and daycares and for vaccine mandates to continue in long-term care.
The Children's Health Coalition, which includes CHEO and other pediatric hospitals, had asked the province to wait until at least two weeks after March break before making a decision to end mask mandates in schools. In a statement Wednesday, the coalition asked people to continue wearing masks in school for now, if they could, "to reduce absenteeism and support sustained in-person learning …"
Article content
On Twitter, Dr. Nisha Thampi, a leading infectious disease physician at CHEO, expressed concern about the provincial announcement.
"This is hard news for many families and staff, for school administrations and public health units who have tried to keep school communities safer during the pandemic."
Shortly after Wednesday's announcement, Horizon Ottawa and the Disability Justice Network of Ontario called on Ottawa's Medical Officer of Health, Dr. Vera Etches, to maintain health protections, including mask mandates.
In a statement, Horizon board member Sam Hersh noted that Etches recently said she did not plan to recommend further public health measures as provincial restrictions were lifted, but it is clear individual behaviours can drive or deter transmission.