Oregon man charged with luring after missing Edmonton teen found in U.S.
Teen was found Saturday morning after an investigation that involved 10 different law enforcement agencies, including the FBI.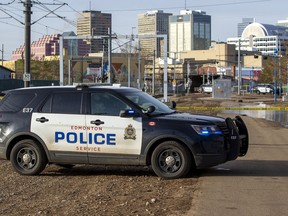 Edmonton Police say a 13-year-old girl missing since June 24 has been found in Oregon on July 2. Photo by Greg Southam /Postmedia
A 13-year-old Edmonton girl who disappeared more than a week ago has been found safe in Oregon, where a man suspected in her disappearance has been arrested.
Edmonton police say the teen was found Saturday morning after an investigation that involved 10 different law enforcement agencies, including the FBI.
Her family was informed of her whereabouts early Saturday and family members boarded a flight to begin making their way to Oregon a few hours later, according to a family spokesperson.
The girl's father posted to Facebook that he was relieved and grateful for the public's support and tips, which investigators say numbered in the hundreds.
"Thank you to all of you for your efforts. We will forever be grateful to all of you," he wrote.
Article content
In a statement, the FBI's Portland field office said Noah Madrano was taken into custody early Saturday morning in Oregon City, a community 20 km up the Willamette River from Portland, where he is being held on state charges. Oregon City police could not immediately be reached for comment.
Edmonton police said the accused is being charged with child luring and that further charges could follow.
The girl went missing on June 24 after leaving her Edmonton home for school. Postmedia is no longer identifying her by name now that she has been found.
Police said they believe the suspect was in Mission, B.C., outside of Vancouver, for between three and four days.
Police in Abbotsford, B.C., said they obtained CCTV footage Friday at the request of EPS showing the girl at a fast food restaurant about five kilometres from the Sumas border crossing into Washington state.
Article content
When Abbotsford officers arrived, the girl and suspect had already left.
Edmonton police said the two met through social media. They didn't identify the platform that was used, but said the online history records obtained by investigators support the child luring charge.
It's also unclear how they managed to cross the border.
"It's still early in the investigation to establish how contact was made between this individual and (the girl) and again whether he came here with the sole purpose of taking her back to the United States, which is what we believe occurred," said EPS Insp. Brent Dahlseide.
"We would be speculating to say that they crossed together. But I do know that they relocated together again in the U.S. once they gained entry."