Organs from deceased COVID-positive donors could lead to more transplants in Canada
'It's not contagious. It's quite safe to use those organs': Ontario transplant medical expert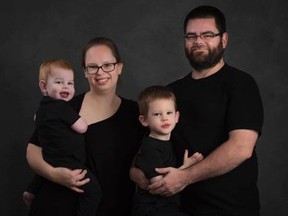 Carolyn Munn's son Josiah is in need of a heart transplant. She says she would be open to receiving one from a COVID-positive donor — a new method being used for organ transplants in Ontario. Photo by Carolyn Munn
Carolyn Munn has been far from home for two years.
The wife and mother of two relocated to Toronto, Ontario, from New Brunswick with her family while one of her young sons, Josiah, remains on a list for a heart transplant.
"He's in a good place right now. Hopefully he stays well while we continue to wait," she said. "The longer we wait, he will start to deteriorate."
There are thousands of Canadians just like Josiah —  more than 4,300 people as of December 2019, according to the Canadian government — who are on a waitlist for an organ transplant. Now, a new method  in Ontario is using deceased COVID-positive patients as donors. With more than 36,000 deaths attributed to COVID in Canada, it could result in more matches and more life-saving surgeries.
"We would definitely be open to it," said Munn. "I think I would trust medicine at this point. If they've done it and they've seen positive outcomes, then why not? I mean, we've waited two years, and two years of his life has been spent here in Toronto, with no family around, no real life."
Article content
In Ontario — the province that does the most transplant surgeries in the country — there have been four adults who have successfully received organs from deceased COVID-positive donors as of the end of February, according to Ontario Health.
"This is significant because there's a huge, huge shortage of organs. It is so life-changing that we have to try to maximize the number of organ donors," said Dr. Atul Humar, director of transplant at the University Health Network in Toronto. "During COVID, the overall number of donors has gone down. It's due to multiple reasons, including the ICUs being overwhelmed with COVID patients."
An organ — liver, kidney or heart — can be used two weeks after a donor's positive COVID diagnosis, which ensures the virus isn't replicating. The function of the organ is carefully examined so that it's safe for transplant. There has yet to be a case where the virus has been transmitted to a recipient, said Humar, except for lung transplants.
Article content
Dr. Deepali Kumar is the director of transplant infectious diseases at the UHN, who also participates in developing national guidelines on organ donation.
"We weren't sure how much of a threat (COVID) was to our organ donation and transplant system," she said. "Now we're dealing with, again, the same kind of issues with the COVID-positive donor: how to ensure the safety of our transplant recipient and our surgical team."
While selecting organs for transplant, doctors are also checking for other viruses. 
"The majority of organs have at least one virus within them like Cytomegalovirus (CMV) and we take appropriate steps to prevent complications from these viruses. However, this is different than the COVID question because we're only transplanting organs where there's no risk of transmission of COVID," said Kumar.