Orgies, cocaine use rife among D.C. politicos: GOP congressman
'Well hey, we're going to have kind of a sexual get-together at one of our homes. You should come.'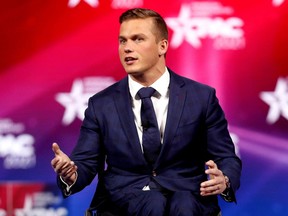 U.S. Rep. Madison Cawthorn of North Carolina speaks at the Conservative Political Action Conference (CPAC) in Orlando, Florida, U.S. February 26, 2021. Photo by Octavio Jones /REUTERS
A Republican congressman is painting life in Washington as a non-stop orgy of "sexual perversion" and drug use akin to the fictional antics on TV's House of Cards
There is also no shortage of drugs in the corridors of power he said, adding that the very people setting narcotics policy are the ones knocking off a few lines at lunch.
"There's some of the people that are leading the movement to try and remove addiction in our country and then you watch them doing, you know, a key bump of cocaine in front of you and it's like wow, this is wild," he said.
The staunch Republican is currently engaged in divorce proceedings with his wife of eight months, CrossFit athlete Cristina Bayardelle.
"When Cristina and I were engaged, I was not a member of Congress. I felt called to serve and we both agreed that I should run. Our victory was unprecedented, but overnight our lives changed," he said in December.