Ottawa police were not ready for number, behaviour of Freedom Convoy participants occupying streets: Interim police chief
'The hate, the disruptive behaviour, the intimidating behaviour, the noise pollution…' was unexpected, said Interim Police Chief Steve Bell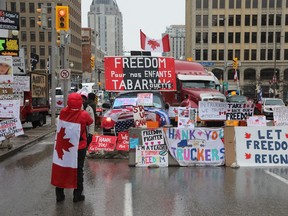 Freedom Convoy on Wellington street in Ottawa, February 10, 2022. Photo by Jean Levac/Postmedia
OTTAWA – Ottawa police were not ready for either the number or the behaviour of so-called "Freedom Convoy" participants who occupied the capital's streets and "terrorized" local residents, according to Interim Police Chief Steve Bell.
"The original intelligence that we had had a much smaller footprint of the people who were … motivated to stay for longer periods of time," the head of the Ottawa Police Service (OPS) testified to members of the federal security committee Thursday.
"What ultimately ended up on our streets in terms of scope and scale and geographical footprint was not consistent with what we believed to have intended to occur," he added in response to a question by Bloc Québécois MP Kristina Michaud.
But beyond the unexpected hundreds of vehicles and protestors that ended up clogging streets around Parliament Hill for roughly four weeks starting on Jan. 28, Bell said police were not expecting protestors to be as disruptive as they were either.
Article content
Residents of downtown Ottawa reported being subject to a constant blaring of truck and car horns at all hours of the day (until a court ordered an injunction to silence them), aggressive behaviour and intimidation from protestors, as well as air pollution due to the constant running of truck and car motors.
The occupation was eventually declared illegal by police, who now describe it as a "siege" of Ottawa.
"The activities that were engaged by the protesters were not what we believed would occur," Bell said. "The hate, the disruptive behaviour, the intimidating behaviour, the noise pollution that terrorized 24 hours a day, seven days a week, our communities were nothing that … had occurred before."
Testifying alongside Bell, Ontario Provincial Police (OPP) Commissioner Thomas Carrique said they determined on Feb. 7 that the movement posed a threat to national security.
Article content
That was two weeks after protestors first occupied Ottawa streets and one week before the federal government invoked the Emergencies Act in the hopes of giving police additional powers to clear out protestors.
Carrique declined to detail what led police to see the blockades as a threat to national security, nor if the threat was related to far-right extremism.
Conservative MP Dane Lloyd also grilled Bell on if police had found firearms amongst protestors in Ottawa, citing a news report that quoted police sources as saying officers had found a loaded shotgun in a vehicle.