Patrick Brown disqualified by Conservative leadership organizers
Breaking: Multiple sources said that members of the organizing committee met during a 'hastily' planned meeting Tuesday night to discuss if they would kick Brown out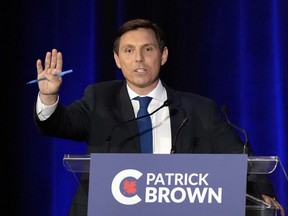 Conservative leadership hopeful Patrick Brown during the Conservative Party of Canada French-language leadership debate in Laval, Quebec on May 25, 2022. Photo by Ryan Remiorz/The Canadian Press/File
OTTAWA – Patrick Brown has been disqualified from the Conservative Party leadership race due to "serious allegations of wrongdoing" that "appear" to violate Canadian election law.
In a statement published late Tuesday, Conservative Leadership Election Organizing Committee (LEOC) chair Ian Brodie said organizers became aware of the new undisclosed allegations "in recent weeks."
Sources close to LEOC told National Post there were serious concerns about the Brown campaign's donations and finances that are now being brought to the attention of Elections Canada.
Another source said there were "serious" allegations that at least one private company was contributing towards paying the salary of Brown campaign staff.
A spokesperson for Brown did not respond to requests for comment, and his campaign did not immediately put out a statement responding to LEOC's decision.
Article content
Brodie said they gave Brown ample opportunity to provide information that would alleviate the concerns, but they were not provided with that information.
"Throughout the investigation into these allegations, the Chief Returning Officer and I have done our best to be fair to the Patrick Brown leadership campaign and provide them with the time they need to substantively refute these allegations," he said. We regret having to take these steps but we have an obligation to ensure that both our party's Rules and federal law are respected by all candidates and campaign teams. None of these problems has any impact on the integrity of the vote itself."
Article content
Brodie said the party would be sharing the information with Elections Canada.
Sources confirmed to the National Post that the decision to disqualify Brown came in a 11-6 vote of the organizing committee.
The party has sold a record number of memberships leading up to the vote and there were concerns about verifying all the new members, but party sources said that had not been a challenge.
Some ballots have been printed, but Conservative sources insisted the race would still go on the same schedule, with a winner set to be announced on Sept. 10.
According to his own campaign's numbers, Brown sold the second most memberships during the race, nearly 150,000.
His departure will leave Conservative MPs Pierre Polievre, Leslyn Lewis, and Scott Aitchison, alongside former Quebec Premier Jean Charest and former Ontario MPP Roman Baber.