Patrick Brown, mayor of Brampton, Ont., joins race to lead federal Conservatives
Brown will be the fifth candidate to enter the Conservative leadership race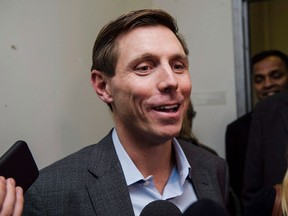 Patrick Brown speaks to media following a meeting at the Conservative Party headquarters in Toronto on Friday, February 16, 2018. Photo by THE CANADIAN PRESS/Christopher Katsarov
BRAMPTON, Ont. — Patrick Brown has officially joined the race to lead the federal Conservatives, with a promise to heal the fractures that have erupted in the party over recent years.
Brown, 43, launched his campaign in Brampton, Ont., where he has served as mayor since 2018.
He walked on stage at the Queen's Manor Event Centre with his wife, Genevieve, and their two children Sunday as the crowd chanted his name.
Brown's speech pitched a campaign that offers a greater voice for caucus members and a bigger Conservative tent.
"I want people who have never voted Conservative, and voted for other parties to feel welcome in our family," Brown told the crowd Sunday.
Article content
Brown's political roots run deep in Brampton, and it's a part of the country where Conservatives know they need to grow their support if they hope to form government.
He promised to do that without sacrificing seats in western or rural Canada, and suggested the party needs to stop treating Conservative members in the west "like an ATM and start delivering election victories."
In his speech, Brown addressed the main concern raised about his candidacy by party membership: his support for carbon pricing during his time as leader of the Progressive Conservatives in Ontario.
Article content
Many party members reject carbon pricing as an ineffective "tax," including Poilievre, who has vowed to repeal the federal consumer carbon price and attacked Brown over his support of the policy.
Just before Brown announced his leadership candidacy, Poilievre's team launched an attack ad with the tag line "Patrick Brown will say and do anything," pointing out his inconsistent position on environmental policy.
"Past attempts by conservative parties in Canada to address climate change, including one that I led, haven't been done with consultation with our membership or caucus," he said.
"Trust me from experience, I can definitely admit that is not the right approach."
He said, if elected leader, the party would decide on its environmental policy collectively.