Pence says Trump was wrong that he could have overturned 2020 election
"President Trump is wrong," Pence said in a speech to the Federalist Society, a conservative legal organization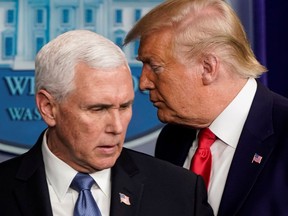 U.S. Vice President Mike Pence (left) and U.S. President Donald Trump at a White House news conference in February 2020. Photo by Joshua Roberts /REUTERS files
In a sharp admonishment of his former boss, former U.S. Vice President Mike Pence said on Friday Donald Trump was wrong to believe Pence had the power to reverse the outcome of the 2020 presidential election that Trump has falsely claimed was stolen from him.
After losing his re-election bid Democrat Joe Biden in November 2020, the Republican Trump in a bid to stay in office pressured Pence to block congressional certification of the results while presiding over the proceedings on Jan. 6, 2021. Pence, a loyal lieutenant during the four years of Trump's tumultuous presidency, opted not to block certification.
Trump has often disparaged Pence since then, and on Sunday issued a fresh statement saying the former vice president could have "overturned" the election.
"President Trump is wrong," Pence said in a speech to the Federalist Society, a conservative legal organization, in Lake Buena Vista, Florida. "I had no right to overturn the election."
"The presidency belongs to the American people, and the American people alone. And frankly there is no idea more un-American than the notion that any one person could choose the American president," Pence added.
Article content
Pence's comments represented his most forceful criticism of Trump to date. A Trump spokesperson did not immediately respond to a request for comment.
"I understand the disappointment many feel about the last election. I was on the ballot," Pence said. "Whatever the future holds, I know we did our duty that day. John Quincy Adams reminds us: Duty is ours; results are God's," Pence added, quoting a 19th century U.S. president. "And the truth is there's more at stake than our party or political fortunes. Men and women: if we lose faith in the Constitution, we won't just lose elections, we'll lose our country," Pence added.
'DARK DAY'
While Pence was presiding over the certification, a mob of Trump supporters stormed the Capitol in a failed bid to stop the certification. Pence and U.S. lawmakers inside the Capitol fled from the rioters.
Article content
In his speech on Friday, Pence called Jan. 6 a "dark day."
His comments stand in contrast to the Republican Party, which on Friday censured https://www.reuters.com/world/us/loyal-trump-republican-party-moves-censure-us-reps-cheney-kinzinger-2022-02-04 Republican U.S. Representatives Liz Cheney and Adam Kinzinger for joining a House of Representatives select committee investigating the Jan. 6 attack. The party said the Democrat-led inquiry was persecuting "ordinary citizens engaged in legitimate political discourse."
Republicans aligned with Trump have made the false election claims a key part of their campaigns https://www.reuters.com/world/us/georgia-governors-race-tests-trumps-stolen-election-claims-2021-12-20 heading into the November 2022 midterm elections in which the party is seeking to win back control of Congress from the Democrats. Around 55% of Republicans nationally think the 2020 election was stolen, according to Reuters/Ipsos polls.