Pressure to increase defence spending, NDP's big ticket demands add to Freeland's budget dilemma
Beyond their commitments made for NDP support, the Liberals still have to account for $50B in their own campaign commitments that were not in last fall's economic update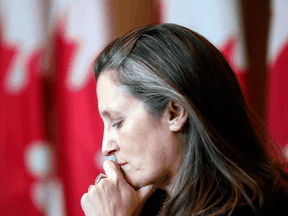 In addition to the Liberals' own priorities, Finance Minister Chrystia Freeland will now have to find money for a new dental care program, more funding for housing, and a big dollar request on pharmacare. Photo by Justin Tang/The Canadian Press/File
OTTAWA – Prime Minister Justin Trudeau's deal with the NDP will now become Chrystia Freeland's problem as she moves to find room in an already crowded budget for new spending.
The finance minister hasn't announced a date for the budget, but it is expected to be sometime in early April. In addition to the Liberals own priorities, she will now have to find money for a new dental care program, more funding for housing, and a big dollar request on pharmacare.
In question period, interim Conservative leader Candice Bergen said the deal would be bad for the nation's finances.
"High tax, high spend and higher cost for everything is all that this NDP-Liberal government will be delivering for Canadians," she said.
Freeland's budget math will be helped by higher oil prices and a proposed surtax on big banks, which should lead to higher government revenues.
Article content
Plus, Defence Minister Anita Anand has said she's considering "aggressive options" to increase defence spending in the wake of the war in Ukraine, and would present a range of options to cabinet, including exceeding NATO's two per cent of GPD target.
Liberal MP John Mckay said it was going to be an issue for the government as the budget took shape.
"No question there will be spending challenges and you layer onto that our security challenges. We need some pretty serious refreshment of military funding and so I don't envy the finance minister," he said.
Mckay said in addition to the war in Ukraine, Russia was militarizing the Arctic and launching cyber attacks, leaving Canada no choice but to increase spending on defence.
Article content
"Everyone of us here is in this war and so we're being forced into choices that probably this time last year we probably wouldn't want to make," he said.
On Tuesday, Trudeau announced a pact with the NDP that will allow the Liberals to govern until 2025. Many of the details of the 28-point deal came with little or no dollars attached — commitments to prohibit replacement workers in strikes and creating a homebuyers bill of right, for example — which will not impact the federal treasury.
But there are several big ticket items; a proposed dental care plan could cost up to $1.5 billion a year when fully phased in by 2025, according to a Parliamentary Budget Officer estimate, with additional costs to deal with a backlog of care that people have delayed.