Protesters plan to hurl rotten eggs at Jeff Bezos' new superyacht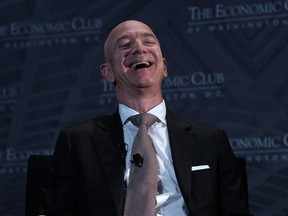 Jeff Bezos laughs as he participates in a discussion during a Milestone Celebration dinner Sept. 13, 2018 in Washington, D.C. Photo by Alex Wong /Getty Images / Files
There's a rotten plan being hatched over the planned dismantling of a historic bridge in the Netherlands due to Jeff Bezos.
In fact, residents of Rotterdam are being asked to throw rotten eggs at the Amazon billionaire's new superyacht, when it sets sail later this year.
They are protesting the temporary removal of the Koningshavenbrug — known as De Hef ("the lift") to locals — so that Bezos' 127-metre yacht Y721 can sail unobstructed to the North Sea.
The yacht is currently being built by a shipyard in Alblasserdam, and to get through, Bezos is paying for the dismantling and the work to put it back together.
A Facebook event has as of Tuesday more than 13,000 people interested and more than 3,700 planning to attend, and possibly hurl eggs when the yacht sails by.
Article content
He also shared a video on how to make your own cardboard egg-grenade launcher.
After news broke that there were plans to dismantle the bridge for Bezos' yacht earlier this month, Strormann created the event as a gag.
"It started more as a joke among friends after we heard the news about the possible dismantling of the bridge," he told NL Times.
But then local residents bought into the half-hearted protest, and soon thousands had shown interest, joking or not.
Strormann said he didn't like the double standard of the situation.
"Normally it's the other way around: If your ship doesn't fit under a bridge, you make it smaller. But when you happen to be the richest person on Earth you just ask a municipality to dismantle a monument. That's ridiculous."
The vertical-lift bridge — a heritage site — was the first landmark to be restored in post-Second World War Rotterdam after it was heavily damaged during a German bombing.