'Putin needs more troops': 40,000 Syrian fighters ready to join Russia in Ukraine
Since Vladimir Putin ordered the Feb 24 invasion his forces have sustained heavy losses and have been unable to seize the capital Kyiv and other major cities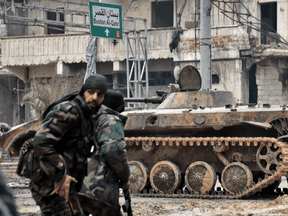 Syrian pro-government forces patrol Aleppo streets in 2016. Eleven years of civil war in Syria has produced a generation of men with fighting experience but few employment options. Photo by GEORGE OURFALIAN/AFP via Getty Images/File
Russia is trying to hire Syrian mercenaries experienced in urban combat because it lacks the forces to capture and hold big cities in Ukraine, Western security sources believe.
Since Russian President Vladimir Putin ordered the Feb 24 invasion his forces have sustained heavy losses and have been unable to seize the capital Kyiv and major cities such as Odesa and Mariupol. However, up to 40,000 foreign fighters have reportedly volunteered to aid Moscow's efforts.
"Putin needs more troops than he thought he would. And he needs irregular troops because this war is becoming insurrectional," a Western security source said.
"Russia now needs massive reinforcements in terms of equipment and troops (to continue the war)," said Mathieu Boulegue, a research fellow specializing in Russia at the Chatham House think tank.
The Kremlin announced last Friday that it was seeking foreign volunteers to fight in Ukraine. In Syria, where Russia's military bolstered the government of President Bashar al-Assad, 11 years of civil war has produced a generation of men with fighting experience but few employment options.
Article content
A war monitor said yesterday that Russia had drawn up lists from the Syrian army and allied militia to be put on standby for deployment in Ukraine.
"More than 40,000 Syrians have registered to fight alongside Russia in Ukraine," said Rami Abdel Rahman, who heads the U.K.-based Syrian Observatory for Human Rights.
Pro-regime Facebook pages linked to Syria's fourth armoured division have posted adverts seeking fighters promising US$3,000 over six months, a big salary in a country with an average monthly income of about $30.
Russian support for Damascus has raised Moscow's standing for many pro-regime Syrians and with violence at a low ebb in Syria many fighters are eager.
One Syrian army veteran looking to fight in Ukraine told The Telegraph: "I have no problem going to fight now that the situation here has calmed down; of course, I need to feed my family and Russia fought with us here, so it's normal to go and help them if they need it."
The man, who spoke on condition of anonymity, said: "I don't care who is in Ukraine, for me it's important to fight with Russia. I have worked with the Russians here in Aleppo and Deir Ezzor. We don't speak their language; but it doesn't matter, we have the experience."