Queen ditches the walking sticks to meet in-person with Justin Trudeau
The Queen's first in-person engagement since catching COVID-19 was with Canada's prime minister on Monday at Windsor Castle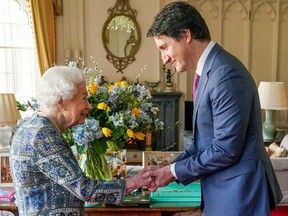 The Queen welcomes Canadian Prime Minister Justin Trudeau to Windsor Castle on Monday, March 7, 2022. Photo by Steve Parsons/Pool/AFP via Getty Images
The Queen has held her first in-person engagement since catching COVID-19, dispensing with her walking stick to greet Canadian Prime Minister Justin Trudeau.
The 95-year-old Queen enjoyed a lively conversation with Trudeau in an audience at Windsor Castle on Monday.
Trudeau is in the U.K. for talks on the war in Ukraine with Prime Minister Boris Johnson and Dutch counterpart Mark Rutte.
The monarch, who is also Queen of Canada, was pictured in a patterned dress, standing and smiling at the Canadian prime minister as he held her right hand in both of his during the meeting in the Oak Room.
The pair have enjoyed a warm relationship, and in 2015 the Queen made Commonwealth leaders laugh during a visit to Malta by publicly telling the youthful prime minister: "Thanks for making me feel so old."
Article content
The Queen and Trudeau were photographed with a large arrangement of striking blue and yellow flowers between them.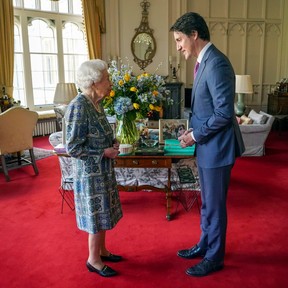 The colours of the Ukrainian flag were seen prominently at the centre of the pictures, taken at an unusual angle in the Oak Room at Windsor to ensure they could be seen by the watching world.
The Queen has made a "generous" private donation to help Ukrainian refugees fleeing war, while members of her family have spoken directly about their support.
Prince Charles condemned the "brutal" actions of Russian forces, saying he had been "deeply moved" by the "extraordinary bravery, generosity and fortitude of the Ukrainian community in the face of such truly terrible aggression".
The Queen now regularly uses a walking stick and has been pictured looking frailer recently. She remarked during a Windsor Castle audience last month: "Well, as you can see, I can't move."
Article content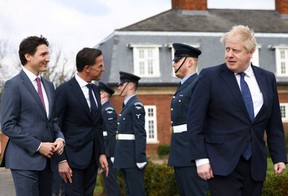 Also on Monday, Trudeau and his British and Dutch counterparts displayed a show of solidarity with besieged Ukraine, at a historic military base that helped defend Britain during the Second World War.
"We want to stand with the Ukrainian people and push back hard against Russia," Trudeau said after arriving at the Royal Air Force Station Northolt outside of London for a meeting with Johnson and Rutte.
They discussed Russia's invasion of Ukraine and were to strategize on the response of NATO countries to the conflict.
They spoke in an officer's mess building outside a vast airfield that was also a base for the Polish Air Force and played a pivotal role in the Battle of Britain.
The Polish squadron registered the most shootdowns of Nazi aircraft on flights out of the base during the course of the epic battle. Rutte and Johnson both acknowledged the role the base played in the Second World War.
Canada, Britain and their NATO allies have rejected desperate Ukrainian pleas for a no-fly zone to protect their civilians from Russian bombardment because they fear it could start a new world war if they engage with Russian planes.