ROYAL SNUB: Prince Harry will go to the Netherlands but not U.K.
The fifth iteration of the games he founded will be held April 16-22 in The Hague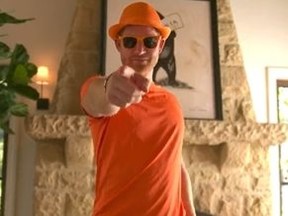 Prince Harry wears an orange T-shirt, hat and sunglasses in a screengrab from video posted to the Invictus Games NL Twitter account. Photo by Invictus Games NL /Twitter
Prince Harry doesn't seem to care what his relatives think of him.
What he's not ready for, it seems, is a trip to London to see his family and pay respects to his late grandfather.
A spokesperson confirmed on Friday that the Duke of Sussex would not be attending his grandfather's Service of Thanksgiving, which is to be held at Westminster Abbey on March 29, almost one year after his April 9, 2021 death at age 99.
Earlier this year, Harry claimed he would feel "unsafe" returning to his England without police protection.
"In the absence of such protection, Prince Harry and his family are unable to return to his home," a statement from his legal team said.
Article content
Harry has made it clear that he doesn't want himself or his wife Meghan to have the same fate as his late mother, Princess Diana, who died in a 1997 car crash while trying to escape the paparazzi.
He even offered to pay for the protection himself, to no avail.
"It was also hoped that the Queen would meet his daughter Lilibet for the first time and that would make it even more of a special occasion," a source told the U.K. Sun.
"Now none of that will go ahead – yet he is willing to travel to Holland for the Invictus Games, which is only (480 km) away. It will certainly raise eyebrows and most probably hurt feelings."
The spokesperson did say that Harry hoped to visit the Queen "as soon as possible."
Since moving to America, Harry has only been back to the U.K. twice – for his grandfather's funeral and for the unveiling of Diana's memorial with his brother, Prince William.