Russia absconds with jets worth $10 billion to elude EU sanctions
Foreign leasing firms have only repossessed about two dozen of the more than 500 aircraft rented to Russian carriers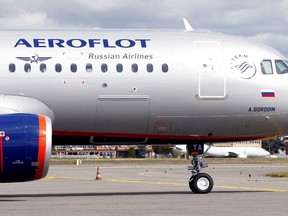 The logo of Russia's flagship airline Aeroflot is seen on an Airbus A320-200 in Colomiers near Toulouse, France, September 26, 2017. Technically, lessors have until March 28 to retrieve the planes under European Union sanctions. But state-owned Aeroflot PJSC and other Russian airlines have already gathered the vast bulk of them back inside the country, out of reach of their owners. Photo by Regis Duvignau/Reuters
(Bloomberg) — Aircraft owners are coming to grips with the loss of hundreds of Airbus SE and Boeing Co. jets that Russian carriers have effectively shielded from seizure behind a new incarnation of the Iron Curtain.
With the window just about closed, foreign leasing firms have succeeded in repossessing only about two dozen of the more than 500 aircraft rented to Russian carriers, according to Dean Gerber, general counsel for Valkyrie BTO Aviation. The planes in limbo have a market value of about $10.3 billion, aviation analytics firm Ishka estimates.
Technically, lessors have until March 28 to retrieve the planes under European Union sanctions. But state-owned Aeroflot PJSC and other Russian airlines have already gathered the vast bulk of them back inside the country, out of reach of their owners. The government aided the effort by instructing carriers to stop flying internationally and return the jets to Russia by Tuesday.
Article content
"The number one fear right now is that these aeroplanes are gone forever," said Steve Giordano, managing director of Dover, Delaware-based Nomadic Aviation Group, one of a handful of firms specializing in aircraft repossessions.
Desperate Hunt
The shock from the rapid turn of events rippled through the roughly 2,000 attendees gathered at the annual ISTAT Americas convention in San Diego, where Valkyrie BTO's Gerber spoke on Monday. There, elation over the fading omicron wave of coronavirus — the bane of aviation for the past two years — gave way to talk of spiking oil prices and doomsday scenarios for the stranded jets.
The more we talk with insurers and other people at this conference, the clearer it's becoming that these aircraft aren't coming back

George Dimitroff
"The more we talk with insurers and other people at this conference, the clearer it's becoming that these aircraft aren't coming back," said George Dimitroff, head of valuations for consultant Ascend by Cirium.
Article content
The Russian government's response to the economic restrictions has stunned the leasing industry by flouting decades-old international treaties that had helped spur a boom in global travel. Conventions guaranteeing lessors the right to cross borders to claim aircraft from defaulting customers helped attract a gush of money as other investors came to view aircraft as a safe investment.
In telexes over the weekend, Russian authorities urged the nation's airlines to restrict flying to domestic routes and friendly Belarus to prevent their jets being grabbed by repossession crews lying in wait, Emily Wicker, a partner with law firm Clifford Chance, told the lessor conference. The Russian government also advised operators to re-register foreign-owned aircraft in Russia from their traditional base of Bermuda, another move that could thwart efforts to revoke an aircraft's certification — or track its maintenance and upkeep.