Russia signals scaled-back war aims, Ukrainians advance near Kyiv
In the month since they launched their invasion of Ukraine, Russian troops have failed to capture any major city.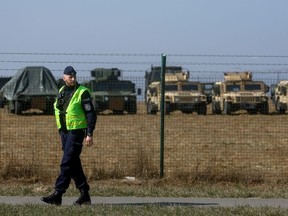 A police officer walks outside Rzeszow-Jasionka Airport as U.S. military equipment is seen inside, ahead of U.S. President Joe Biden's planned arrival to visit Poland amid Russia's invasion of Ukraine, near Rzeszow, Poland, March 25, 2022. Photo by HANNAH MCKAY /REUTERS
BUCHA/LVIV — Moscow signaled on Friday it was scaling back its ambitions in Ukraine to focus on territory claimed by Russian-backed separatists in the East as Ukrainian forces went on the offensive to recapture towns outside the capital Kyiv.
In an announcement that appeared to indicate more limited goals, the Russian Defence Ministry said a first phase of its operation was mostly complete and it would now focus on the eastern Donbass region, which has pro-Russia separatist enclaves.
"The combat potential of the Armed Forces of Ukraine has been considerably reduced, which … makes it possible to focus our core efforts on achieving the main goal, the liberation of Donbass," said Sergei Rudskoi, head of the Russian General Staff's Main Operational Directorate.
Reframing Russia's goals may make it easier for President Vladimir Putin to claim a face-saving victory, military analysts said. Moscow had said its goals included demilitarizing Ukraine. Western officials dismiss this as a baseless pretext for a war they say is aimed at toppling Ukraine's government.
Article content
Facing stiff resistance, Russian troops have failed to capture any major city in the month since invading Ukraine. Instead, they have bombarded cities, laid waste to urban areas and driven a quarter of Ukraine's 44 million people from their homes.
More than 3.7 million of them have fled abroad, half to neighbouring Poland, where U.S. President Joe Biden met soldiers from the U.S. Army's 82nd Airborne Division bolstering the NATO alliance's eastern flank.
"Hundreds of thousands of people are being cut off from help by Russian forces and are besieged in places like Mariupol," Biden said, referring to the besieged southeastern port.
"It's like something out of a science fiction movie."
Battlelines near Kyiv have been frozen for weeks with two main Russian armoured columns stuck northwest and east of the capital. A British intelligence report described a Ukrainian counter-offensive that had pushed Russians back in the east.
Article content
"Ukrainian counter-attacks, and Russian forces falling back on overextended supply lines, have allowed Ukraine to reoccupy towns and defensive positions up to 35 km east of Kyiv," the report said. Both the United States and Britain have given Ukraine arms.
'UNPREPARED TROOPS'
Russia's defense ministry said 1,351 Russian soldiers had been killed 3,825 wounded, the Interfax news agency reported. Ukraine says 15,000 Russian soldiers have died.
Volodymyr Borysenko, mayor of Boryspol, an eastern suburb where Kyiv's main airport is located, said 20,000 civilians had evacuated the area, answering a call to clear out so Ukrainian troops could counter-attack.
Ukrainian forces recaptured a nearby village the previous day and would have pushed on but halted to avoid putting civilians in danger, Borysenko said.