Russian state TV abruptly cuts away mid-sentence from Putin speaking at rally
State media typically cover Putin's every public utterance from start to finish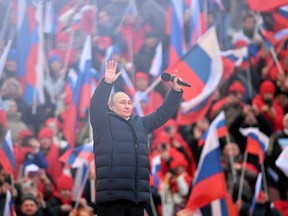 President Vladimir Putin waves during a rally marking the eighth anniversary of Russia's annexation of Crimea, at Luzhniki Stadium in Moscow, Russia, March 18, 2022. Photo by RIA Novosti Host Photo Agency/Ramil Sitdikov
Russian state television suddenly cut away from President Vladimir Putin speaking at Moscow's packed Luzhniki stadium on Friday, switching from the president mid-sentence to show patriotic songs being played at the event instead.
The interruption in a state TV broadcast is the second this week after an anti-war protester on Monday interrupted the main news program on Russia's TV Channel One, holding up a sign behind the studio presenter with slogans denouncing the war in Ukraine.
State TV is the main source of news for many millions of Russians and typically covers Putin's public appearances from start to finish.
Speaking on a stage at the center of Moscow's Luzhniki Stadium, Putin promised to tens of thousands of people waving Russian flags and chanting "Russia, Russia, Russia" that all of the Kremlin's aims would be achieved.
"We know what we need to do, how to do it and at what cost. And we will absolutely accomplish all of our plans," Putin, 69, told the rally from a stage decked out with slogans such as "For a world without Nazism" and "For our president."
Article content
Many of the Russian slogans used at the rally incorporated the "Z" symbol that Russian forces have used as a motif in Ukraine. One read "Za Putina" – "for Putin."
Dressed in a turtleneck and coat, Putin said the soldiers fighting in what Russia calls its "special military operation" in Ukraine had demonstrated the unity of Russia.
"Shoulder to shoulder, they help each other, support each other and when needed they shield each other from bullets with their bodies like brothers. Such unity we have not had for a long time," Putin said.
As he was talking, state television briefly cut away from his speech mid-sentence and showed earlier pre-recorded footage of patriotic songs, but he later appeared back on state television.
Article content
RIA news agency cited Kremlin spokesman Dmitry Peskov as saying a technical fault on a server was the reason state television had suddenly cut away from Putin. It was not immediately clear how the server issue led to such an unusual interruption.
Three employees of Russian oil giant Rosneft said they had resisted pressure to attend the celebratory show to mark the eighth anniversary of Russia's annexation of Crimea from Ukraine. The sources said they were unwilling to take part because they saw the event as an endorsement of the war in Ukraine.
In a statement issued after Reuters reported staff reluctance to attend the Crimea show, Rosneft said that it supported staff who wanted to attend: "We are proud of them and proud of our president."