Ryan Reynolds and Blake Lively donate $500,000 to Indigenous clean drinking water initiative
'There's absolutely no reason Indigenous communities should not have access to safe, clean water,' said Reynolds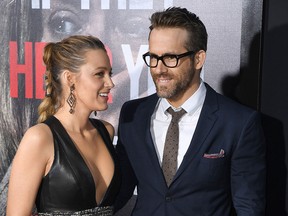 Blake Lively and Ryan Reynolds have donated half a million dollars to an organization that educates Indigenous youth in clean drinking water operation and environmental science. Photo by ANGELA WEISS /AFP/Getty Images
Ryan Reynolds and Blake Lively have donated $500,000 to an organization that trains Indigenous youth on operating clean drinking water systems and environmental water science.
Reynolds and Lively say they appreciate the program's focus on opportunities for Indigenous youth. "These folks are helping to ensure sustainable access to safe, clean water locally, now and for the future.
"Blake and I are thrilled to support this important work," said Reynolds.
The non-governmental organization Water First began discussions with the star couple in January.
"From our first conversation with Ryan, his genuine interest in supporting education and training opportunities for young Indigenous adults and youth has been clear," said Water First's executive director and founder, John Millar.