Sale of Banksy anti-war art raises $133,000 for Ukrainian children's hospital
'Wounded children whose parents were killed in front of them are being brought to us,' says the Ohmatdyt Children's Hospital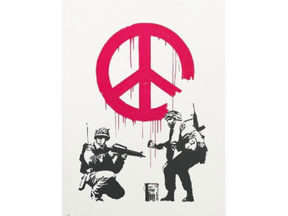 The money from the sale of a Banksy print is being donated to a hospital in Kyiv, Ukraine, where patients are being taken in from areas where there have been shellings and airstrikes by Russia since the outbreak of the Ukraine war at the end of February. Photo by @myartbroker/Twitter
The funds from the sale of a print by British artist Banksy totalling approximately $133,000 — 81,000 pounds — will be donated to a Ukrainian hospital in Kyiv, according to private sale network My Art Broker.
The 2005 piece, CND Soldiers, was donated by an anonymous client to support the initiative, A Banksy For Ukraine. The print is of two soldiers holding large guns, one of which is painting a grafitti peace sign on a wall in red as the other looks out.
The money from the silent auction is going to Ohmatdyt Children's Hospital, which continues to operate despite the shelling and airstrikes by Russia since the outbreak of the Ukraine war at the end of February.
"Wounded children and adults are now being admitted to Ohmatdyt, and seriously ill patients are being held in shelter for days," the hospital said in a news release on My Art Broker's web page. "Wounded children whose parents were killed in front of them are being brought to us. Elderly people whose homes were destroyed by a rocket are brought to us."
Article content
The donation "will make an enormous difference to the lives of staff, children and their families in the weeks ahead," said My Art Broker managing director Charlotte Stewart.
The artist, whose identity remains unconfirmed, gained prominence for his street art in England and around the world. His work often takes an anti-war stance and provides perspective on the hypocrisy and horrific nature of war.
Although Banksy was not involved in the sale, Stewart told Forbes she believes he would be "very supportive."
Ohmatdyt Children's Hospital has Ukraine's primary paediatric cancer centre, Associated Press reported. Since the Russian attack, staff have been living there and have moved patients to the basement.
"We must support our patients because, in Kyiv and Ukraine, it's terrible for everybody," the hospital's medical director Dr. Serhii Chernyshuk told AP. "But our patients have a different problem, they cannot help themselves. We must do it."