Saudi civil defence puts out fires at fuel storage tanks hit by Houthis
The Iran-aligned Houthis have escalated missile and drone strikes on the kingdom's oil facilities in recent weeks.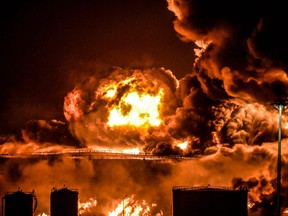 Smoke and flames rise from a Saudi Aramco oil facility in Saudi Arabia's Red Sea coastal city of Jeddah, on March 25, 2022, following a reported Yemeni rebels attack. Photo by AFP via Getty Images /AFP via Getty Images
Saudi Arabia's civil defence has extinguished fires at two fuel storage tanks in the Red Sea port city of Jeddah that were hit in an attack by Yemen's Houthis, state television reported on Saturday.