Secrecy in the courts: Exclusive study reveals increasing use of publication bans in Canada
A unique National Post study of discretionary publication bans requested during the past two years across four provinces shows a 25 per cent increase from one year to the next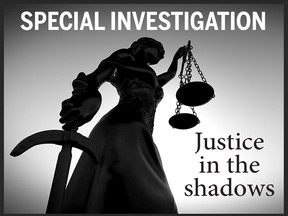 An exclusive study of court data from four provinces reveals the increasing use of publication bans, which rob the public's right to know what's going on. Photo by National Post illustration
Next spring, a trial is scheduled to start in St. John's, N.L., for a prominent lawyer charged with four counts of sexual assault of a female, starting when she was 12 years old, and yet the public can't know who he is because a publication ban protects his identity.
The order was overturned last month after news organizations appealed, but it remains in place, at least until the lawyer's team of blue-chip lawyers has a chance to appeal to the Supreme Court of Canada.
It's a strange situation — one lawyer calls it "bizarre" — but it is only one of many cases raising issues of secrecy in the courts, including some involving Canada's most notorious murderers.
"The open courts principle is pretty fundamental to our operation as a society. We don't ever want to have situations where penal proceedings are taking place outside of public scrutiny," said David Fraser, a lawyer based in Halifax who specializes in privacy and Canadian privacy laws.
Publication bans limit the ability of the media to report stuff, which really means taking away the public's right to read about it, hear about it, and know about it.
Article content
Cases like the Newfoundland lawyer spark questions — about how often publication bans are used, by whom, in what kinds of cases, what information is trying to be hidden, and are they being used more often.
Previously, there have been few answers.
We don't ever want to have situations where penal proceedings are taking place outside of public scrutiny
To study and track publication ban use in Canada, National Post sought studies, reports or analysis from justice ministries, court administrations, journal articles and legal academics — but found none.
To fill the void, the Post did an in-depth study of its own.
The Post's study of all known discretionary publication bans requested during the past two years in courts across four provinces shows a 25 per cent increase from one year to the next.
The jump included 21 per cent more requests in civil court cases and 37 per cent more in criminal court cases.
Article content
This unique study is based on representative provinces — Ontario, Alberta, British Columbia and Nova Scotia — over the two most recent years.
An analysis found 71 per cent of requests asking a judge to prevent people from knowing something that would normally be public information were made in civil cases, such as lawsuits against people or businesses or family disputes.
The remaining 29 per cent of publication ban requests were made in criminal cases, where someone is charged with a crime.
Mark Bantey, a Montreal media law specialist who frequently represents the Montreal Gazette, said an increasing use of publication bans attacks a hallmark of democracy.
"All publication bans are intrusions on freedom of expression. There's no question about that," said Bantey. "A pub ban is an infringement of freedom of the press and the open court principle. So, the question becomes, is each publication ban justified?"